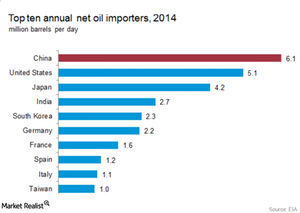 Top Crude Oil Importers' Role in 2016
Crude oil importers 
China and the United States are the largest crude oil importers in the world. In 2015, they consumed about 30.5 MMbpd (million barrels per day) of crude oil and liquid fuels, per the EIA (U.S. Energy Information and Administration). Together, they accounted for 32% of global crude oil consumption. China imported 6.7 MMbpd (million barrels per day) of crude oil in 2015. This was 5.5% more than 2014 levels, per data from China's General Administration of Customs. China's crude oil imports are expected to rise in 2016. However, the slowing Chinese economy is a creating a big crack in the global crude oil market. US imports are expected to rise due to lower Brent crude oil prices.
Article continues below advertisement
Japan's and India's roles in the oil market
Japan is the third largest importer of crude oil in the world. The slowing Japanese economy and falling demand from Japan will continue to weigh on crude oil prices in 2016. However, lower crude oil prices could motivate India to import more crude oil. The lifting of the Iranian oil sanctions, discussed in the third part of this series, will also boost strategic ties between India and Iran, and we could see India's demand for crude oil rise in 2016.
Demand is expected to be weak in Europe due to the slowing European economy and a warmer-than-normal winter. We'll discuss the supply and demand balance in the next part of this series to understand whether oil prices might rise. Overall, oil markets will be oversupplied in 2016 despite strong demand from the United States, China, and India.
Falling crude oil prices impact upstream players like ConocoPhillips (COP), Anadarko Petroleum (APC), Whiting Petroleum (WLL), Marathon Oil (MRO), and Continental Resources (CLR). They also affect energy ETFs like the Vanguard Energy ETF (VDE) and the ProShares UltraShort Bloomberg Crude Oil ETF (SCO). The depressed energy market continues to weigh on broader indexes like the S&P 500 Index (SPY).