BioMarin's Business Model and Its 3 Sources of Revenue
Let's discuss BioMarin's business model. It derives revenue from three sources, including product revenue. The latter accounts for ~98% of total revenue.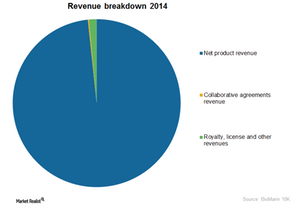 BioMarin's business model
BioMarin (BMRN) derives revenue from three sources, namely product revenue, collaborative agreements, as well as royalty, license, and other revenue. The graph below shows the major contribution of net product revenue at ~98% of the company's total revenue.
Article continues below advertisement
Article continues below advertisement
Net product revenue
Five commercialized products that contribute to product sales are Vimizim, Naglazyme, Kuvan, Aldurazyme, and Firdapse. The graph below details the revenue earned by the existing product portfolio of the company.
Aldurazyme is the first product of the company and is sold by Genzyme Corporation, a wholly-owned subsidiary of Sanofi SA (SNY). As per the agreement between BioMarin and Genzyme, BioMarin would manufacture and supply Aldurazyme whereas Genzyme would market and sell the drug to third parties. Genzyme is the only customer for the drug.
BioMarin earns the royalty on the worldwide sale of the drug coupled with incremental product transfer revenue. Product transfer revenue is the arrangement for unsold units of Aldurazyme. If Aldurazyme remains unsold by Genzyme, it has to a pay fixed amount per unit of the drug.
The company directly sells Vimizim, Naglazyme, Kuvan, and Firdapse across the globe.
Collaborative agreements revenue
This includes license revenue and contract research revenues to BioMarin. Companies collaborate with each other to develop a particular molecule. In such a continuing involvement, non-refundable upfront license fees that are earned by the inventor are initially deferred and later recognized as collaborative agreement revenue.
Article continues below advertisement
Royalty, license, and other revenues
Royalty under this heading includes the one earned where the company isn't directly involved in product sales.
However, the company hasn't reported revenue from Aldurazyme and Kuvan under royalty revenue. BioMarin plays a significant role in the operations for these two products, including manufacturing and regulatory activities. It has the responsibility to supply Aldurazyme and Kuvan to Genzyme and Merck Serono, respectively. Hence, BioMarin has chosen to classify the revenue under net products revenue rather than including it under royalty revenue.
Generally, companies enter or amend royalty agreements to specify a particular profit-sharing basis that's reached upon mutual consent. Royalty is the revenue earned by the inventor at a specified percentage on the gross or net sales of the product. Companies such as Amgen (AMGN), Celgene (CELG), and Gilead Sciences (GILD) recognize royalty revenue.
Investors can invest in the VanEck Vectors Biotech ETF (BBH). BBH invests 4.8% of its portfolio in BioMarin.