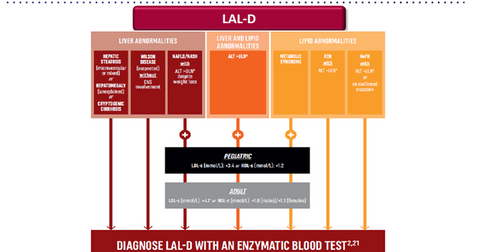 Kanuma: An Innovative Enzyme Replacement Therapy for LAL-D
By Margaret Patrick

Updated
LAL-D
Alexion Pharmaceuticals' (ALXN) Kanuma (sebelipase alfa) is an innovative enzyme replacement therapy for patients suffering with lysosomal acid lipase deficiency (or LAL-D).
According to Alexion, "Lysosomal Acid Lipase Deficiency (LAL Deficiency, or LAL-D) is a serious, life-threatening rare disease associated with premature mortality and significant morbidity. LAL-D is a chronic disease in which genetic mutations result in decreased activity of the LAL enzyme. This leads to marked accumulation of lipids in vital organs, blood vessels, and other tissues, resulting in progressive and multi-systemic organ damage including hepatic fibrosis, cirrhosis, liver failure, accelerated atherosclerosis, cardiovascular disease, and other devastating consequences."
The U.S. Food and Drug Administration (or FDA) will announce its decision to approve or reject the drug in the US market by December 8, 2015.
Other liver and metabolic disorders such as Wilson's disease, hepatic steatosis, and metabolic syndrome display similar signs as those displayed by LAL-D.
Article continues below advertisement
Kanuma
According to Alexion Pharmaceuticals, "Kanuma™ (sebelipase alfa) is an innovative enzyme replacement therapy designed to address the underlying cause of lysosomal acid lipase deficiency (LAL-D) by aiming to reduce substrate accumulation in the lysosomes of cells throughout the body, including the liver, to prevent vital organ damage and premature death."
As with Amgen's (AMGN) Blinatumomab, Gilead Sciences' (GILD) Zydelig, and Celgene's (CELG) GED-0301, the FDA has granted orphan drug designation (or ODD) to Kanuma. According to the FDA, "An orphan drug is defined in the 1984 amendments of the U.S. Orphan Drug Act (or ODA) as a drug intended to treat a condition affecting fewer than 200,000 persons in the United States, or which will not be profitable within 7 years following approval by the FDA."
Alexion is also actively involved in educating physicians about the ultra-rare LAL-D. Since this disease can be misdiagnosed by physicians, the company plans to educate physicians about the use of a dried blood test, which can help in accurately detecting the disease. The commercial success of Kanuma greatly depends on effective physician education by the company's sales team.
Following Kanuma's approval by the European Commission, Alexion Pharmaceuticals has been negotiating on a country-by-country basis in Europe regarding the drug's pricing. The company expects to price Kanuma at similar levels to those it charged for another rare disease drug, Strensiq, priced at about $285,000 per year.
Investors can participate in the upside potential of Kanuma while avoiding excessive company-specific risks by investing in the SPDR S&P 500 ETF (SPY). Alexion Pharmaceuticals accounts for 0.22% of SPY's total holdings.