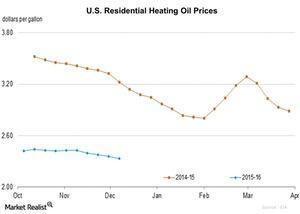 Heating Oil Prices Pressured by Distillate Inventories
By Manu Milan

Updated
Heating oil prices
The EIA's[1. US Energy Information Administration] heating oil and propane updates released on December 9, 2015, reported that heating oil prices were around $2.3 per gallon on December 7, 2015. This represents a fall of $0.03 per gallon compared to prices a week ago. Heating oil prices in the Midwest and East Coast fell by $0.05 per gallon and $0.02 per gallon, respectively, to settle at $1.96 per gallon and $2.33 per gallon, respectively, on December 7, 2015.
Article continues below advertisement
Why are heating oil prices low?
Distillate inventories across the globe are at high levels since high refinery runs in the summer of 2015 increased distillate supplies in global markets.
Refineries operated at a maximum operable capacity in an expectation that distillate fuels like diesel and heating oil demand would be more in this winter. But temperatures that were less cold than anticipated plunged the demand for heating oil in the US while a slowdown in manufacturing growth, especially in emerging markets, has lowered the growth of distillate demand around the globe.
Due to the Chinese economy's slowdown, diesel consumption in China fell, so diesel pumped back into global markets. This is also one of the major reasons for greater distillate inventories that led to lower prices for distillate fuels like heating oil and diesel. The EIA expects that lower heating oil prices will save 25% in spending for consumers of heating oil.
Lowered heating oil prices can save consumers a bit of spending. In turn, lower prices had a greater impact on the revenues of refiners such as Marathon Petroleum (MPC), Western Refining (WNR), HollyFrontier (HFC), Chevron (CVX), Valero Energy (VLO), and Tesoro (TSO). MPC accounts for 2.2% of the Energy Select SPDR (XLE).
Find more updates on distillate stocks, check out Market Realist's energy section.