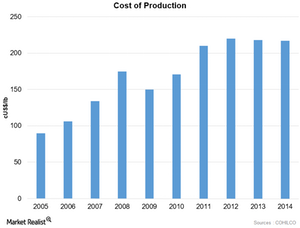 Copper Production Cost Details Released by Chile
Chile's mining industry
During the week ended December 24, 2015, the government of Chile released data on the production costs of its mining industry. This is the first report of its kind released by Chile's government regarding its mining industry.
Article continues below advertisement
Article continues below advertisement
Copper production costs in 2Q15
According to the newly formed costs observatory on copper mining (Observatorio de Costos), the average cost of copper production during the second quarter of 2015 was $1.625 per pound of copper produced. This was lower than the average cost of copper production in 2Q14, which was $1.655 per pound of copper produced. The above graph gives details of copper production costs of Chile from 2005 till 2014.
According to the mining minister of Chile, Aurora Williams, this newly formed observatory on the production of copper collected production data of 19 mining operations in Chile. The production from these 19 mining operations accounted for 91% of Chile's total output. This is the first time that Chile's government has released data on the cost of these mining operations to the public.
Miners benefit from lower energy and fuel costs
According to the Observatorio de Costos (Observatory on Costs), Chile's miners benefited by 4.9 cents per pound from the lower energy and fuel costs. This calculation of copper production costs in 2Q15 doesn't include the costs of mining expansion and other high-level costs. These figures contradict some earlier statements that state the producers are unprofitable at current copper prices.
During 2015, major copper producers Freeport-McMoRan (FCX), Glencore (GLNCY), Anglo-American Plc (AAUKY), and Asarco (AR) announced copper production cuts because of falling copper prices. In addition to the mining companies, Chinese smelters announced production and sales cuts of copper. They announced 200,000 metric tons of copper sales cuts in 1Q16, as well as the 350,000 metric tons of production cuts of copper in 2016. For further reading on this topic, please refer to Copper Prices Get a Boost from Chinese Smelters.
Base metal ETFs also lost a significant portion of their values in 2015. The Power Shares DB Base Metals ETF (DBB) and the SPDR S&P Metals & Mining ETF (XME) have declined 25% and 50%, respectively, since the beginning of 2015.