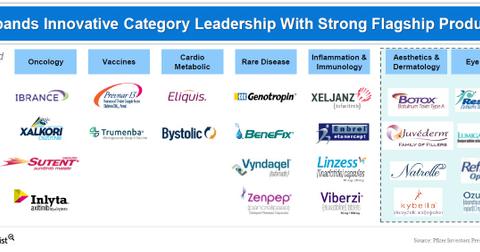 Pfizer-Allergan Deal: Pfizer Will Combine with Allergan
By Mike Benson

Updated
Pfizer-Allergan deal   
On November 23, 2015, two of the big pharmaceutical companies—Pfizer (PFE) and Allergan (AGN)—announced the biggest merger transaction ever in pharmaceuticals. In its press release, Pfizer announced the unanimous approval of the merger by its board of directors. It added that the companies entered into a definitive merger agreement. Pfizer will combine with Allergan in an all-stock transaction. For the valuations, the stock transaction is valued at $363.63 per Allergan share. This results in a total enterprise value of ~$160 billion.
Article continues below advertisement
The above chart shows the flagship products for Pfizer and Allergan. According to the information from Pfizer's press release, the reference date for Pfizer's common stock is considered as November 20, 2015—when Pfizer's closing price was $32.18. The transaction considered a premium of over 30% on the share prices of Pfizer and Allergan as of October 28, 2015. The Allergan shareholders will receive 11.3 shares of the combined entity against each share of Allergan. For Pfizer, the shareholders will receive one share for the combined entity against each share of Pfizer.
What's Pfizer?
Pfizer was founded in 1849. By revenue, it's one of the largest companies worldwide. With its headquarters in New York, the company operates in the biopharmaceuticals, including medicines and vaccines, and consumer healthcare segments. Since 2014, the company's new structure divided the business into two parts—innovative pharmaceuticals and established pharmaceuticals.
The company has over 78,000 employees and over 500 subsidiaries worldwide. To learn more about Pfizer, read Investing in Pfizer? What You Need to Know.
Article continues below advertisement
What's Allergan?
Allergan was formed after the acquisition of Allergan Inc. by Actavis in 2015. Allergan has its global headquarters in Dublin, Ireland. Its US administrative headquarters are in New Jersey. It has operations in over 100 countries. The company is a leader in growth pharma—the new industry model.
Allergan is the third-largest company in the global generics business. The product portfolio includes drugs for therapeutic areas including the central nervous system, gastroenterology, ophthalmology, women's health, urology, cardiovascular, medical aesthetics, and anti-infective.
Allergan already divested its generic business to Teva Pharmaceuticals (TEVA). The transaction is expected to close by 1Q16.
Investors can consider ETFs like the iShares US Healthcare ETF (IHE). IHE holds ~9.5% of its total investments in Pfizer. It holds ~7.6% of its total investments in Allergan in order to divest the risk. IHE also holds ~10.9% of its investments in Johnson & Johnson (JNJ), ~8.4% in Merck and Co. (MRK), and ~7.6% in Bristol-Myers Squibb (BMY).