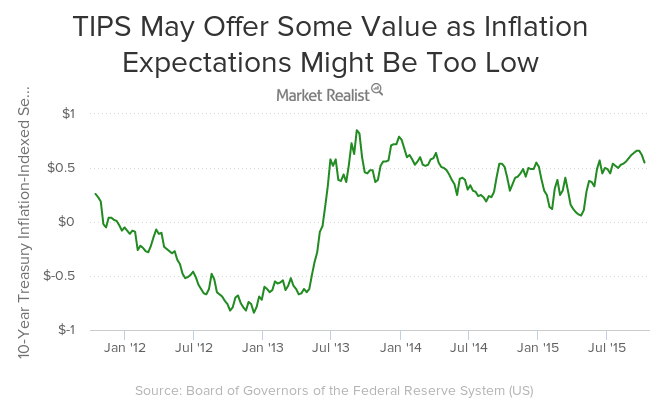 Why Treasury Inflation-Protected Securities May Offer Some Value
That said, current inflation estimates probably are too low. The core US consumer price index (or CPI) remains stable at around 1.8 percent, despite the deflationary impact of a strong dollar and technology advances, and the secondary effects of lower commodity prices. Meanwhile, with job growth running at the fastest pace in more than 15 years and labor force participation stuck near multi-decade lows, there may be less slack in the labor market than is appreciated. This means that wages are likely to firm.
Article continues below advertisement
Our Take on TIPS
Finally, while the various iterations of quantitative easing (or QE) have yet to lead to any meaningful inflation, as the Fed's recent uncertainty indicates, the path to rate normalization will be difficult. How the Fed will extricate itself from a bloated balance sheet is unclear, as ultimately is the long-term outlook for inflation. With that in mind, today's modest break-evens suggest that TIPS offer some benefit to investors looking for a long-term inflation hedge.
Market Realist – Treasury inflation-protected securities (or TIPS) may offer some value as inflation breakeven seems modest.
The graph above shows the year-over-year change in core inflation based on both the CPI and the PCE (personal consumption expenditure), the latter being the Fed's preferred measure for setting policy rates. As you can see, both measures have seen a fall since 2011 when core inflation was above 2%, according to both indices. Core CPI inflation currently stands at 1.8% while core PCE is at 1.3%. Meanwhile, headline inflation is at 0.2% and 0.3% for CPI and PCE measures, respectively.
[marketrealist-chart id=723576]
However, we are likely to see higher headline inflation, which includes oil (BNO) and food items, unlike core inflation, in the next few months. This is because of the high base effect. For instance, crude oil was as high as $90 per barrel in October 2014 and fell to $55 in January 2015. Thus, in the next few months, we are likely to see a mild uptick in headline inflation.
In such a scenario, inflation-indexed securities like TIPS (TIP) provide investors a hedge against inflation, just like gold (GLD) and other commodities (DBC). However, you have to pay a premium for that protection. It comes in the form of lower coupons. However, while equities (VTI) provide a decent inflation hedge, TIPS are one of the very few securities that compensate you directly for inflation.
Read What's Holding Back the U.S. Consumer for more on factors keeping inflation low.