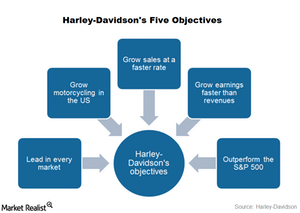 Harley-Davidson's 5 Objectives: Investor Takeaways
By Mohit Oberoi, CFA

Oct. 30 2015, Updated 10:05 a.m. ET
Harley-Davidson's 3Q15 conference call
Harley-Davidson (HOG) management was not impressed with the company's 3Q15 performance. Along with the challenge from higher competition in the EMEA (Europe, Middle-East, and Africa) region and pressure from non–US-based companies in the US market, the company also faced certain self-inflicted headwinds.
Harley-Davidson counted product availability and voluntary recalls as two headwinds of its own making.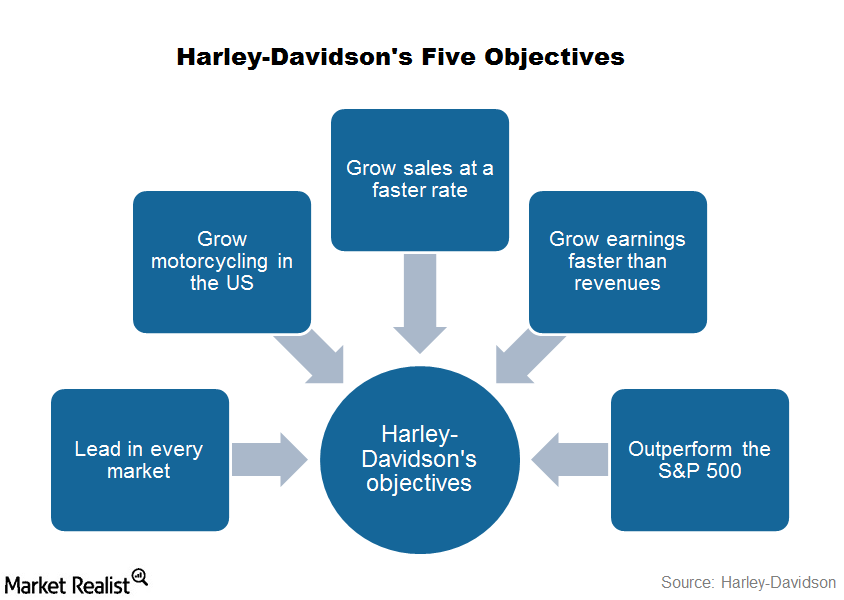 Meanwhile, in its 3Q15 earnings conference call, Harley-Davidson outlined five objectives for the company. The chart above shows these objectives. Let's discuss them in detail.
Article continues below advertisement
Five objectives
Lead in every market: Harley-Davidson plans to achieve the leadership position in the 601cc motorcycle segment. As the company's CEO (chief executive officer) Matt Levatich put it, "This is not just about competing, but winning."
Grow the sport of motorcycling in the United States: According to Harley-Davidson, the company plans to grow its core customers in the United States (DIA) (VTI) as well as its outreach customers at a faster rate.
Grow sales at a faster rate: Harley-Davidson plans to grow its retail sales in the United States as well as internationally at a faster pace. In the next five years, the company plans to add 150–200 dealers globally to achieve this objective.
Grow earnings faster than revenues: Harley-Davidson has stated an objective of growing its revenues over the next five years. It's also aiming at growing its earnings faster than its revenues through 2020.
In the next part, we'll explore what else Harley-Davidson plan to do to turn things around.