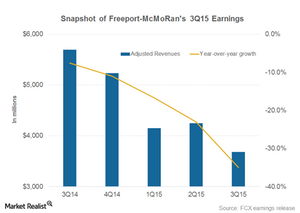 Why Freeport-McMoRan's 3Q15 Revenues Fell Off a Cliff
3Q15 revenues
Revenues for commodity companies like BHP Billiton (BHP) and Vale (VALE) are a function of commodity (COMT) prices and shipments. Shipments depend on demand from end consumers as well as any portfolio actions undertaken by a company. Commodity prices are decided by market forces that in turn depend on demand and supply as well as prevailing sentiment. In this part of the series, we'll explore the trend in Freeport-McMoRan's (FCX) revenues.
Article continues below advertisement
Revenues fall
Freeport-McMoRan reported revenues of $3.7 billion in 3Q15, a year-over-year (or YoY) decline of more than 35%. The graph above shows the falling trend in Freeport-McMoRan's revenues.
In 3Q15, Freeport-McMoRan sold 1.0 billion pounds of copper, 23 million pounds of molybdenum, 13.8 MMBOE (or million barrels of oil equivalents), and 294,000 ounces of gold.
The company's sales volumes fell year-over-year for copper and gold while energy and molybdenum volumes rose over the period. Copper producers like Freeport-McMoRan and Glencore (GLNCY) have cut production in an attempt to contain copper supply.
Freeport-McMoRan reported average realized prices of $2.38 per pound for copper, $1,117 per ounce for gold, and $55.88 per barrel for oil. Please note that realized oil prices also include an $11.03 per barrel cash gain on derivative contracts. Freeport-McMoRan's average realized copper and energy prices have respectively fallen 23.7% and 36.9% YoY.
Investors looking for direct exposure to copper can also consider the PowerShares DB Base Metals ETF (DBB). DBB invests one-third of its holdings in copper.
Outlook
For 4Q15, Freeport-McMoRan has given guidance of 1.1 billion pounds of copper, 21 million pounds of molybdenum, 13.3 MMBOE, and 310,000 ounces of gold.
However, its 4Q15 revenues will also depend on how commodity prices play out in the next two months.