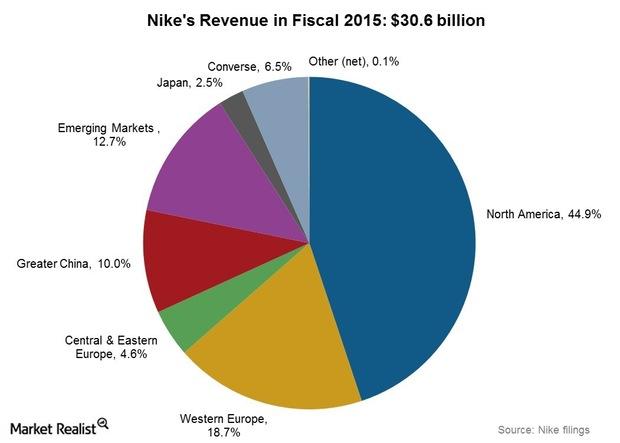 Can Nike Grow North American Sales to $20 Billion by 2020?
Nike releases segment-wise revenue projections at Investor Day
At its 2015 Investor Day, Nike (NKE) released growth projections for its segments over the forecast horizon. Nike, whose operations span nearly every country in the world, reports results by six geographic segments. The company expects all segments to grow over the period from fiscal 2015–2020. Several highlights include:
developed market geographies, including the segments of North America, Western Europe, and Japan, are projected to grow at a high single-digit CAGR[1. Compounded annual growth rate]
the Emerging Markets segment is expected to grow at a low double-digit CAGR
the Greater China segment is expected to grow at a mid-teens CAGR
Article continues below advertisement
North America
This is Nike's largest segment, both by revenue and operating income. In Fiscal 2015, the segment clocked pre-tax income of $3.6 billion on sales of $13.7 billion. Nike expects $20 billion in sales from the segment by fiscal 2020. Sales of women's products are expected to be a key driver for Nike's sales. Nike currently derives most of its sales from men's products. The company is also looking to expand its presence across channels. You'll read more on these growth drivers in Parts 5, 6, and 7 of this series.
North America performance drivers
Performance for Nike and peers has been strong in North America over the past few years. Largely unhampered by currency headwinds, the sports gear category has benefited from the improving US economy and rising disposable incomes.
Market dominance
Nike's also benefited from its strong innovation pipeline, enabling it to premiumize its footwear portfolio. Nike's market share in athletic footwear is estimated at ~62%, and it's over 90% in basketball footwear (including brand Jordan)[1. Source: The NPD Group].
Besides, there's been a singular rise in the activewear apparel category, outpacing growth in conventional apparel for several quarters now. Nike and Under Armour (UA) are the number one and two players in the US activewear market, respectively, followed by Adidas (ADDYY) (ADS.DE) and Hanesbrands (HBI)[2. Source: The NPD Group].
Competitor Under Armour is also looking to increase sales from North America. At its 2015 Investor Day, Under Armour said that it's estimating North America sales would more than double by 2018.
Nike makes up ~5% of the portfolio holdings in the SPDR Dow Jones Industrial Average ETF (DIA) and 1.3% in the First Trust Consumer Discretionary AlphaDEX(R) Fund Holdings (FXD).