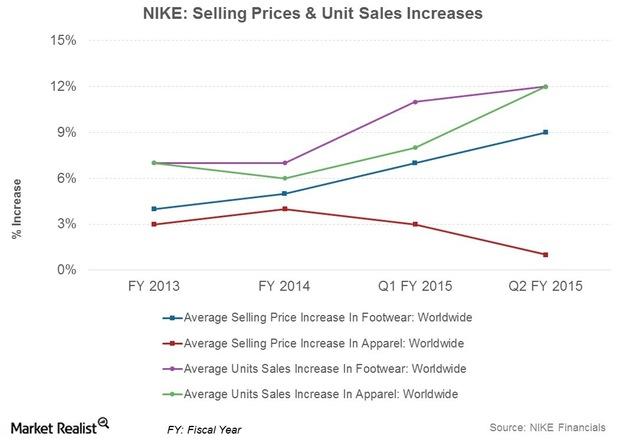 Why Nike Is Able To Sell More Products At Higher Prices
Product category analysis for Nike
Revenue gains for Nike (NKE) in 1H15 were broad-based. Sales rose for almost all key product categories, with the notable exception of the golf category. Sales rose the highest for footwear and Converse, both by 18%.
Article continues below advertisement
Footwear revenue
Nike's the global market leader in athletic footwear. Footwear is also Nike's largest product category, accounting for 58.4% of the company's revenue in 1H15. Footwear revenue in 1H15 was up by 18% year-over-year to almost $9 billion.
The increase in footwear revenue was driven by higher unit sales (up ~11%) as well as higher average selling prices (~8%). The company's strategy has looked at innovative products to drive demand. Nike has a number of technologies targeting footwear for different sports, including running and basketball—its top two categories. Major technologies include Nike Free, Max Air, Lunar, Zoom Air, and Flyknit.
Nike's also targeting a push towards premiumization. It's looking at selling more higher-priced models and marquee, limited-edition brands. This approach creates consumer demand, resulting in both higher unit sales and higher product prices. The expansion of Nike's own retail footprint has also resulted in higher product prices.
Article continues below advertisement
Apparel
Apparel is Nike's second-largest product category, accounting for 29.4% of the company's revenue in 1H15. Apparel revenue rose 10.8% in 1H15 to $4.5 billion. Higher sales were driven by both higher unit sales (up 12%) and higher selling prices (up 1%). Nike also faced declining apparel prices in China for both 1Q15 and 2Q15 due to a shift to lower-priced products in the company's sales mix. China is the only market in which Nike's average prices declined. Unit apparel sales rose in Greater China, though.
Nike has less pricing power in apparel than it does in footwear. Although Nike is continuing to extend its innovative approach to apparel design, it doesn't enjoy the dominance in this segment that it does in footwear. In contrast, industry peers Under Armour (UA), Lululemon Athletica (LULU), and VF Corporation (VFC) are primarily apparel players. NKE, UA, and VFC together constitute ~4.6% of the portfolio holdings of the SPDR Consumer Discretionary Select Sector ETF (XLY).