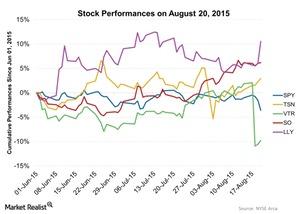 SPY's Struggle with Wall Street Continues
Stocks above moving averages
Of the 502 constituent stocks of the SPDR S&P 500 ETF (SPY), only 23 stocks recorded positive returns on Wall Street on Thursday, August 20. With all the component sectors falling, only seven stocks managed to trade at a closing price above their 100-day, 50-day, and 20-day moving averages. These stocks were Tyson Foods (TSN) and Hormel Foods (HRL) from the consumer staples sector, Ventas (VTR) and Intercontinental Exchange (ICE) from the financial sector, DirecTV (DTV) from the media sector, The Southern Company (SO) from the utilities sector, and Eli Lilly and Co. (LLY) from the healthcare sector.
Article continues below advertisement
Article continues below advertisement
Moving averages
The above graph shows SPY's performance for the past 80 days. The graph also shows the price movement of stocks that are above their 20-day, 50-day, and 100-day moving averages. The movements of TSN, VTR, SO, and LLY are upward until August 20; however, VTR's price went down for a while on August 18.
Moving average is one of the technical indicators used in technical analysis. It's useful in identifying and tracking any trend in the movement of a stock. The average of stock prices is calculated over a definite time span such as 100 days, 50 days, 20 days, 30 days, and so on. If the stock price continuously rises above these averages over different periods, it indicates an upward trend in the stock's movement. Likewise, a continual lag below these averages indicates a downtrend. So in the above graph, we see an upward movement of TSN, VTR, SO, and LLY stocks since their prices are above their moving averages.