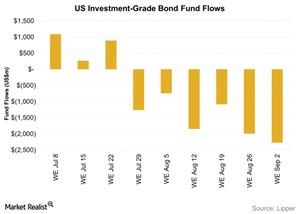 Investment-Grade Bond Funds See 6 Successive Weeks of Outflows
By Lynn Noah

Sep. 23 2015, Updated 4:13 a.m. ET
Investor flows
Investment-grade bond funds witnessed outflows for the week ended September 2—marking their sixth successive week of outflows. Investment-grade bond funds saw net outflows of $2.27 billion in the week. This compared to outflows amounting to $1.99 billion in the week ended August 26.
However, investment-grade bonds have attracted net inflows of $20.90 billion year-to-date.
High-grade bonds saw no issuance last week and only one issue in the week ended August 28, 2015. This was primarily due to economic uncertainty in China and a possible federal funds rate hike in the United States, which could happen during the September 16–17 meeting of the Federal Reserve.
Article continues below advertisement
In the previous article of this series, we reviewed the top issues for August 2015. Celgene Corporation (CELG) issued bonds worth $8.0 billion on August 3, followed by HSBC USA (HSBC), which issued bonds worth $2.7 billion on August 4. On August 10, ING Bank NV (ING) issued bonds worth $2.5 billion. McGraw Hill Financial (MHFI) issued bonds worth $2.0 billion on August 13. BNP Paribas issued bonds worth $1.5 billion on August 12.
Yields analysis of corporate high-quality debt securities
Investment-grade bond yields usually follow cues from the Treasuries market. Treasury yields fell marginally across the yield curve week-over-week.
Investment-grade corporate bond yields remained unchanged from the previous week, according to the BofA Merrill Lynch US Corporate Master Effective Yield. They had touched a year-to-date 2015 high of 3.48% on August 31 but ended at 3.44% on September 3.
The option-adjusted spread (or OAS) fell week-over-week by two basis point to end at 1.68% on September 3. The OAS measures the average difference in yields between investment-grade bonds and Treasuries. So a fall in this spread implied that the risk of high-grade bonds relative to Treasuries decreased.
Investment-grade bond MF returns
As yields remain unchanged, returns on investment-grade bond mutual funds (or MFs) were muted.
The Prudential Total Return Bond A (PDBAX) invests more than 50% of its assets in investment-grade corporate bonds. The week-over-week return of the PDBAX came in at 0.04%.