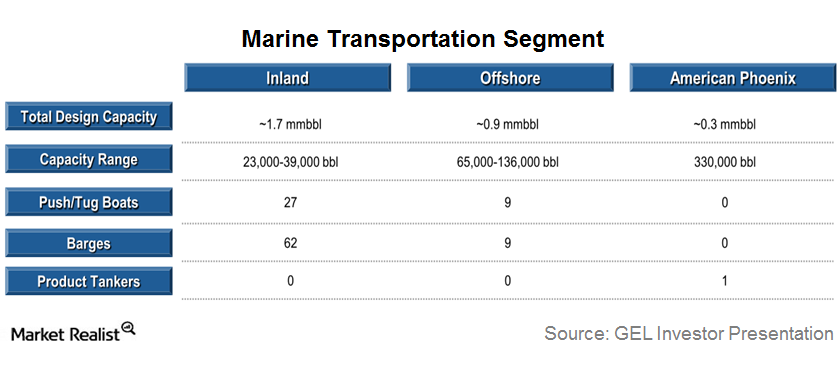 What Drives Genesis Energy's Marine Segment's Performance?
By Kurt Gallon

Dec. 4 2020, Updated 10:52 a.m. ET
Genesis Energy's Marine Transportation segment
Genesis Energy's (GEL) Marine Transportation segment is involved in the marine transportation of crude oil and refined products. Genesis Energy is among the few MLPs that provide marine transportation of crude oil, refined products, and other cargo. These MLPs include Capital Product Partners (CPLP), Navios Maritime Midstream Partners (NAP), and Teekay Offshore Partners (TOO).
Genesis Energy alone constitutes 3.3% of the Global X MLP ETF (MLPA).
Article continues below advertisement
Segment assets
Inland: The segment's inland marine fleet includes 62 barges and 27 push boats that are used to transport heavy refined products such as asphalt that are produced by refiners along the Gulf Coast, Intracoastal Canal, and western river systems.
Offshore: The offshore marine fleet includes nine boats and nine coastwide barges that are used to transport crude oil and refined products.
The M/T American Phoenix: A Jones Act–qualified tanker with 330,000 barrels of capacity that Genesis Energy acquired from Mid Ocean Tanker Company for $157 million in November 2014. According to a company filing, "The M/T American Phoenix is currently operating under long term charters into 2020 with high quality counterparties, including major energy companies."
The Jones Act requires that waterborne cargo shipped "between US ports be carried on U.S.-flag ships, constructed in the United States, owned by U.S. citizens, and crewed by U.S. citizens and U.S. permanent residents."
Segment value drivers
Genesis Energy's Marine Transportation segment's performance is driven by the utilization rate of the inland and offshore marine fleet and the type of contracts it uses with its customers. Genesis Energy uses two type of contracts:
Term Contract: Under term contracts, cargo is transported at a set rate or a daily rate (or time charter). Time charters are preferred as they insulate Genesis Energy from "revenue fluctuations caused by weather and navigational delays and temporary market declines"
Spot Contract: According to Genesis Energy, "Spot contracts are at the current market rate and are subject to market volatility."
In 2014, 80% of Genesis Energy's Marine Transportation segment's revenues were from term contracts, and 20% of revenues were from spot contracts. The spot market exposure helps Genesis Energy to "take advantage of new business opportunities and existing customers' peak demands."