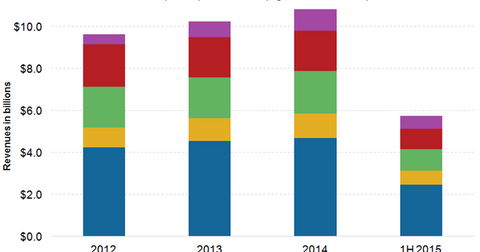 Amgen's Presence in Inflammation, Nephrology, and Bone Segments
By Margaret Patrick

Updated
Inflammation, nephrology, and bone segments
In addition to its oncology drugs, Amgen (AMGN) has a strong drug portfolio in other segments such as inflammation, nephrology, and bone diseases.
Article continues below advertisement
Inflammation drugs
Enbrel, targeted at autoimmune diseases such as rheumatoid arthritis, psoriasis, and psoriatic arthritis, is expected to become a $5 billion brand. These diseases result from a hyperactive immune system that attacks the body's healthy cells, leading to inflammation in the affected area.
Amgen's Enbrel, AbbVie's (ABBV) Humira, and Johnson & Johson (JNJ), Merck (MRK), and Mitsubishi Tanabe Pharma's Remicade are tumor necrosis factor, or TNF, inhibitors and have to be injected into patients. While Remicade's patent expired in February 2015 and Humira is expected to go off patent in 2016, Enbrel will continue to enjoy patent protection until 2028. Hence, unlike its peers, Enbrel is expected to continue earning healthy profits. To learn more about how TNF inhibitors work, please refer to "Humira Takes Top Spot for Rheumatoid Arthritis Drugs."
Nephrology drugs
Amgen offers various nephrology drugs such as Epogen, Aranesp, Sensipar, and Mimpara. Nephrology drugs are used to treat various kidney diseases. Launched in the US in 1989, Epogen is used to treat anemia, or a low red blood cell count, in patients suffering from chronic kidney disease and undergoing dialysis. In January 2012, Amgen entered into a seven-year agreement with dialysis provider DaVita to meet at least 90% of DaVita's demand.
Article continues below advertisement
Aranesp, launched in 2001, also treats anemia in patients on dialysis. However, the drug is also used to treat anemia in patients not on dialysis as well as those suffering from anemia due to chemotherapy treatment. Both Epogen and Aranesp have been facing squeezed profits, as the competition in this area has increased significantly.
Amgen markets Sensipar in the US and Mimpara in Europe as drugs targeting secondary hyperparathyroidism in patients on dialysis. The Mayo Clinic defines hyperparathyroidism as "an excess of parathyroid hormone in the bloodstream due to overactivity of one or more of the body's four parathyroid glands." This can lead to loss of calcium and weakening of bones. Prior to patent expiration, Sensipar is expected to earn $1.5 billion in revenue.
Bone disease
Prolia, a blockbuster drug, is used to treat osteoporosis mainly in postmenopausal women who are at high risk of fracture or other patients who did not respond to or tolerate osteoporosis therapies. Launched in the US and Europe in 2010, this drug is currently being used by one out of three postmenopausal women with osteoporosis.
Investors can get diversified exposure to Amgen's strong inflammation, nephrology, and bone disease drugs, yet avoid unique company risks, by investing in the iShares NASDAQ Biotechnology ETF (IBB). IBB holds 8.53% of its total holdings in Amgen.