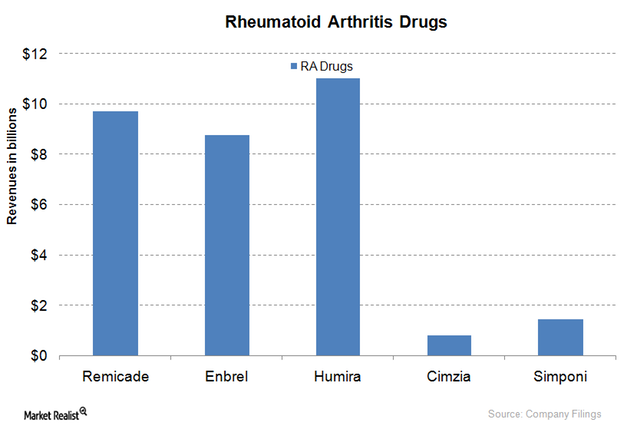 Humira Takes Top Spot for Rheumatoid Arthritis Drugs
By Margaret Patrick

Jul. 10 2015, Updated 11:05 a.m. ET
Rheumatoid arthritis
According to WebMd, "Arthritis means inflammation in a joint. That inflammation causes redness, warmth, swelling, and pain within the joint. Rheumatoid arthritis affects joints on both sides of the body, such as both hands, both wrists, or both knees. This symmetry helps to set it apart from other types of arthritis."
The above graph shows the revenues earned by leading rheumatoid arthritis (or RA) drugs in 2014. AbbVie's (ABBV) Humira is the leading drug for RA, with global sales amounting to about $11.0 billion in 2014. Humira was closely followed by Remicade at $9.7 billion in sales in 2014. Remicade is a drug shared by the partnership of Johnson & Johnson (JNJ), Merck (MRK), and Mitsubishi Tanabe Pharma.
Enbrel, a drug shared by Amgen (AMGN) and Pfizer, earned $8.8 billion. Simponi and Cimzia earned $1.4 billion and $789 million, respectively, in 2014. Roche's Rituxan is also a major revenue-earning RA therapy.
Article continues below advertisement
Disease-management therapy
RA is an autoimmune disease caused by an abnormal immune system response to normal body tissues. The body produces a protein called tumor necrosis factor (or TNF) to regulate the immune system. In normal circumstances, TNF signals a viral infection or tumor in the body by inducing symptoms such as fever, inflammation, and weight loss while it tries to inhibit the infection or tumor. In the case of RA, the body produces excessive TNF, which then attacks the body's cells. Humira, Remicade, Enbrel, and other TNF inhibitors help control the TNF level in the body, reducing the intensity of the condition.
To date, there is no complete cure for RA. So most RA drugs developed by the biotechnology industry (IBB) are part of disease-management therapy. According to EvaluatePharma, Humira is expected to be the world's best-selling RA drug, accounting for 23.5% of the RA market share. With Humira, AbbVie continues to lead the global RA market.
Other therapies involve anti-inflammatory agents, alternative medicine, lifestyle changes, and surgery to remove affected joints.