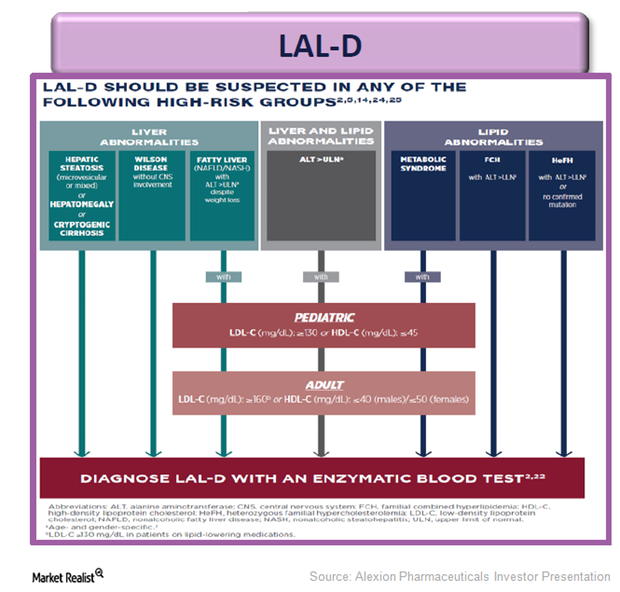 Alexion Pharmaceuticals Adds Metabolic Drug Kanuma to Portfolio
Metabolic franchise
In addition to Soliris targeting rare diseases in the haematological segment, Alexion Pharmaceuticals (ALXN) has diversified in the rare disease segment for metabolic disorders with its drugs Kanuma.
The above diagram shows the target patient population that can suffer from Lysosomal Acid Lipase Deficiency (or LAL-D). LAL-D is a genetic metabolic disease that can affect both adults as well as infants.
Article continues below advertisement
Kanuma
Kanuma, whose generic name is sebelipase alfa, was acquired by Alexion Pharmaceuticals on completion of the acquisition of Synageva Pharmaceuticals in June 2015. According to Alexion Pharmaceuticals, "LAL-D is a chronic disease in which genetic mutations result in decreased activity of the LAL enzyme. This leads to marked accumulation of lipids in vital organs, blood vessels, and other tissues, resulting in progressive and systemic organ damage including hepatic fibrosis, cirrhosis, liver failure, accelerated atherosclerosis, cardiovascular disease, and other devastating consequences."
Kanuma is an enzyme replacement therapy aimed at treating LAL-D patients. Kanuma was approved in Europe on September 1, 2015, and the drug is currently under priority review in the US. The Food and Drug Administration (or FDA) in the US has given Kanuma a Breakthrough Therapy Designation for treating LAL-D in infants. In addition, Kanuma has also filed for a new drug application (or NDA) in Japan. To find out more about the process, please refer to Drug Approval Process in the Biotechnology Industry.
Article continues below advertisement
Based on Alexion Pharmaceuticals' proven expertise in the case of orphan drug Soliris, the company expects to earn more than $1 billion in annual revenues from Kanuma throughout the next decade. Similar to Kanuma, other rare disease drugs such as Amgen's (AMGN) Blinatumomab, Gilead Sciences' (GILD) Zydelig, and Celgene's (CELG) GED-0301 are also expected to be major commercial successes for their respective companies.
Alexion Pharmaceuticals' strategy for Kanuma involves creating awareness about LAL-D through education and diagnostic initiatives to ensure that patients are rapidly diagnosed and treated, using Alexion's global regulatory expertise to secure approval for Kanuma in markets other than the US and Europe and the OneSource treatment support program for educating and assisting patients.
Instead of directly investing in Alexion Pharmaceuticals, you can get diversified exposure to the company's new metabolic franchise yet control company-specific risks by investing in the iShares Nasdaq Biotechnology ETF (IBB). Alexion accounts for 5.07% of IBB's total holdings.