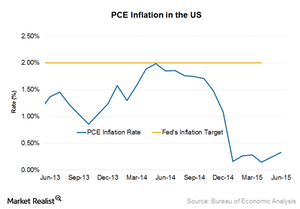 Could PCE Inflation Inspire Action at the Next Fed Meeting?
What's PCE inflation?
There are several measures of inflation. You may have heard of the CPI (consumer price index) and the PPI (producer price index). However, when the Federal Reserve refers to inflation, it's talking about the rate of change in PCE (personal consumption expenditure) inflation. According to the central bank, this indicator is the "most consistent over the longer run with the US Federal Reserve's statutory mandate." Along with full employment, stable prices are the Fed's other goal. To achieve this, the Fed has set a target for PCE inflation of 2%.
Article continues below advertisement
Inflation is in line with the consensus
The BEA (U.S. Bureau of Economic Analysis) released the PCE inflation index for June on August 3, 2015. PCE inflation rose 0.30%—a pace that hasn't been seen since December 2014.
The core PCE price index excludes food and energy. It rose by 1.29% in June over last year. This was almost the same level as last month. Both the measures are showing firming pressures—compared to the beginning of the year.
The above chart shows how far policymakers are from their goal. It's important to note that it's the PCE inflation and not the core PCE inflation that needs to trend toward 2%.
Inflation and gold
Any rise in this index means that the Fed is getting closer to an interest rate hike. Until the Fed progresses significantly toward this goal, it's expected to let the inflation rate rise.
This will support gold prices (GLD) (IAU) and gold stocks including Goldcorp (GG), Kinross Gold (KGC), Hecla Mining (HL), and Silver Wheaton (SLW). It will also support the VanEck Vectors Gold Miners ETF (GDX) that invests in these gold stocks. Goldcorp and Kinross Gold account for 10.60% of GDX's holdings.
In the next part of this series, we'll discuss the second part of the Fed's mandate, maximum employment, and how it's progressing.