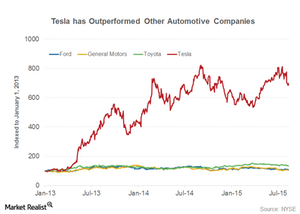 An Investor's Guide to Tesla Motors
Tesla Motors
Tesla Motors (TSLA) was trading at $255 per share on August 20. The share price has been quite volatile over the last few trading sessions. Tesla's 2Q15 earnings led to a negative reaction on Wall Street. The company also revised downward its delivery targets for the remaining half of the year.
Article continues below advertisement
Article continues below advertisement
Tesla Motors has outperformed other automakers
Tesla Motors is one of a few companies that attract much fanfare among its customers as well as investors. Tesla investors believe it's a company with good long-term fundamentals. According to Tesla investors, electric vehicles, or EVs, are here to stay, and Tesla holds an enviable position in the EV market.
Tesla's stock market performance has not disappointed investors, with Tesla stock outperforming legacy car makers by a huge margin, as can be seen in the chart above. However, market view is clearly divided on EVs as well as Tesla. Both globally (ACWI) and in the US (SPY) (VTI), electric vehicles make up a fraction of total vehicle sales. EV prices continue to be prohibitive despite rapid technological innovations and huge government dole outs.
Market views are divided over Tesla
A section of the market sees no long-term utility from EVs. Some even doubt the environmental friendliness of EVs, arguing the same deadly fossil fuels go into electricity generators that run electric vehicles.
Then there are analysts who question Tesla's soaring valuations. However, Tesla can't be valued using the same metrics used for other automobile companies, including Ford (F) and General Motors (GM). Note that some funds have high concentrations of Tesla and other auto companies, including the Fidelity Select Automotive Portfolio whose composition is roughly 8% Tesla stock.
In this series, we'll present a complete business overview for Tesla Motors. We'll look at the company's key financial metrics and explore what factors could drive Tesla Motors in the coming quarters.
Let's begin by first learning more about Tesla in the next part of this series.