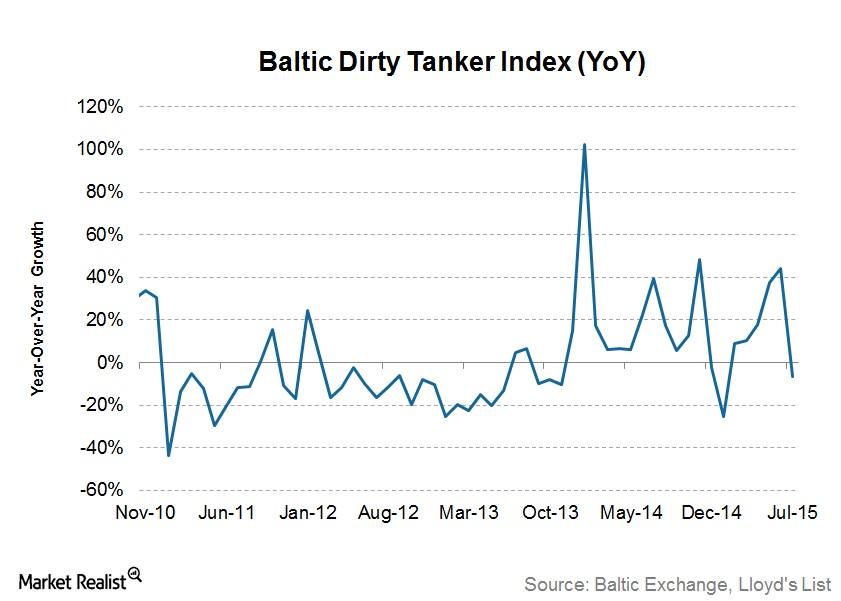 Free Fall of Baltic Dirty Tanker Index: Something to Worry About?
Industry stock performance
The average crude tanker stocks have gained 35% from the start of the year, but they saw a sharp decline since the end of July. On August 13, the average crude tanker stocks were down by 7% compared to the last trading day of July. The top loser was Frontline (FRO), which recorded a change of -18% from the last trading day of July.
We've calculated the average industry stock performance by taking the average of individual stock returns of Teekay Tankers (TNK), Tsakos Energy Navigation (TNP), Nordic American Tankers (NAT), DHT Holdings (DHT), Frontline (FRO), and Euronav (EURN). The fall in stock prices was a reaction to lower crude tanker rates.
Article continues below advertisement
The representative VLCC (very large crude carrier) route from the Arabian Gulf to Japan saw rates fall to $61,800 per day for the week ended July 31. This compares to $92,300 per day in the prior week. Similarly, Suezmax rates also fell but to a lesser extent than VLCC rates. This was reflected in the BDTI (Baltic Dirty Tanker Index).
BDTI
The BDTI tracks shipping rates for transportation of unrefined oil on representative routes. Researchers and analysts follow the BDTI to assess crude tanker companies' revenues and earnings potential. On July 1, 2015, the BDTI was at 952 points, the highest in July. Then the index took a free fall and hit 752 points on July 31, the lowest level recorded for the month of July.
The BDTI free fall continued, and on August 12, the BDTI stood at 673. The index has been showing a falling pattern since the beginning of August. On August 13, the monthly BDTI recorded a 10% decline on a year-over-year basis. The decline was immediately reflected in stock prices.
Series overview 
In this series, we'll analyze the impact of the crude oil tanker industry on the Iranian nuclear deal, on Saudi Arabia's high production, and on low exports as refiners ramp up output. We'll also look at where tanker values are heading in this declining vessel rate scenario.
Since China (MCHI) is one of the largest importers of crude oil, we'll take a look at the Chinese economy with respect to its imports, oil consumption, and currency devaluation on the crude tanker industry.