How Was Nike's 4Q15 and 2014 Sales Performance in North America?
Nike's sales performance was the strongest in the key markets of North America, Western Europe, and Greater China.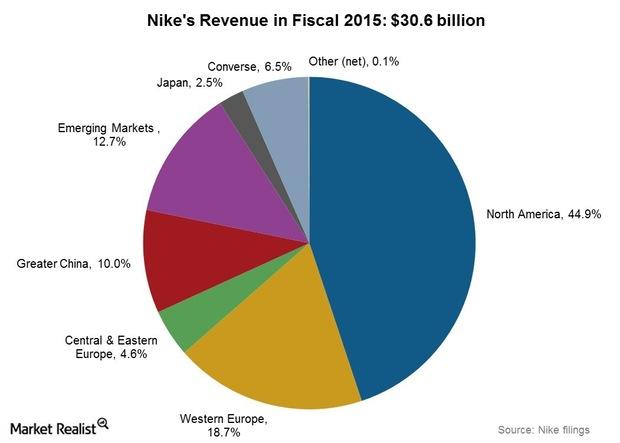 Revenue analysis: Nike in North America
As discussed in the last article of the series, Nike (NKE) beat Wall Street consensus sales estimates in 4Q15. The company's revenue rose by 4.8% to $7.8 billion in 4Q15. Markets had projected sales at $7.7 billon. For the full year, revenue came in at $30.6 billion.
Revenue growth was the strongest in the key markets of North America, Western Europe, and Greater China. Overall, demand for most sporting categories remained high in the year, with the exception of golf and soccer. Soccer's figures were affected by last summer's World Cup, which skewed year-over-year comparisons. Golf has been a challenging category lately, both for Nike and its wholesale partner Dick's Sporting Goods (DKS).
Article continues below advertisement
Article continues below advertisement
North America
North America is Nike's largest market, accounting for almost 45% of revenue. In fiscal 2015, sales rose by $1.4 billion to $13.7 billion in North America. This was the biggest annual sales increase among all segments. Sales saw momentum based on growth in all selling channels. Traction was seen in both footwear and apparel. In 4Q15, apparel sales grew faster than footwear, at 17% year-over-year.
Market share dynamics
Nike's share of the US athletic footwear market was estimated at ~59% in 2013[2. Matt Powell, Forbes, SportsOneSource]. The US market for athletic footwear and activewear grew at 8% and 9%, respectively, in the first quarter of 2015. Nike was the market leader in both, with market share of ~62% in athletic footwear and ~13% in activewear[1. Matt Powell, The NPD Group].
Nike may have gained market share as its 4Q15[3. Quarter ending May 31, 2015] sales in North America grew faster, at 14% for footwear and 17% for apparel. Nike's performance was likely helped by its much larger scale and superior execution. Its domestic rivals like Under Armour (UA), Skechers (SKX), and Canadian firm Lululemon Athletica (LULU), which are making inroads in the US market, are much smaller.
Global rival Adidas (ADDYY) has been losing market share in the US, ceding its number two ranking to Under Armour in apparel and Skechers (SKX) in footwear.
Macro environment
Nike in North America also benefited from the much-improved labor market and incomes. The US unemployment rate fell to 5.5% in May 2015, from 6.3% last May. Discretionary spending (XLY) (RXI) (XRT) by wealthier individuals also appears to be on the rise. This is a positive for Nike, which is positioned at more premium price points.
Nike's weight in the the SPDR Dow Jones Industrial Average ETF (DIA) is 3.8% and 0.8% in the First Trust Consumer Discretionary AlphaDEX Fund (FXD).