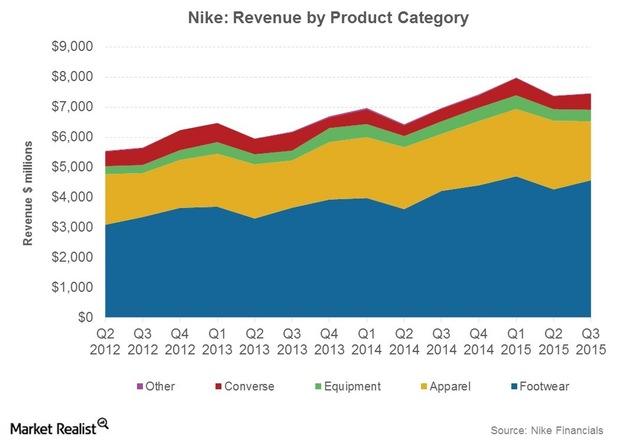 Nike Still Dominates Athletic Footwear in 1Q15
The US athletic footwear market
US dollar sales of athletic footwear rose 8% in the first quarter of 2015. Nike (NKE) was the most dominant brand by far with a market share of ~62%. Fast-growing Skechers (SKX) came in second with a market share of ~5%, knocking Adidas (ADDYY) to the number-three position. Japan's Asics (ASCCY) came in fourth with ~4% market share.
Last year, Adidas (ADDYY) lost its number-two ranking in sportswear to Under Armour (UA).
Article continues below advertisement
Basketball footwear sales
Basketball footwear sales in the United States were among the fastest growing categories in 1Q15, with growth in the high teens. Basketball was estimated to account for about a quarter of all athletic footwear sales in the 12 months to April 2014.
Market leader
Nike is the leader in basketball footwear. The market share of Nike and Jordan brands combined is estimated at more than 90%. More importantly, the market share has been steadily on the rise. Most of the gains have come at the expense of Adidas.
Nike's sponsorship deal with Michael Jordan that began in 1984 gave Nike a great springboard in the US market. And Nike has never looked back.
As we know, Adidas announced in March that it wasn't planning to renew its apparel sponsorship deal with the NBA (National Basketball Association). Adidas plans to concentrate on new product development and expand its roster of star basketball athletes at the NBA and collegiate levels.
Nike is among the top ten holdings in the Vanguard Consumer Discretionary ETF (VCR), making up 2.3% of VCR's portfolio. VCR invests 81.7% of its holdings in consumer cyclical stocks, including Skechers (SKX) and Under Armour (UA).