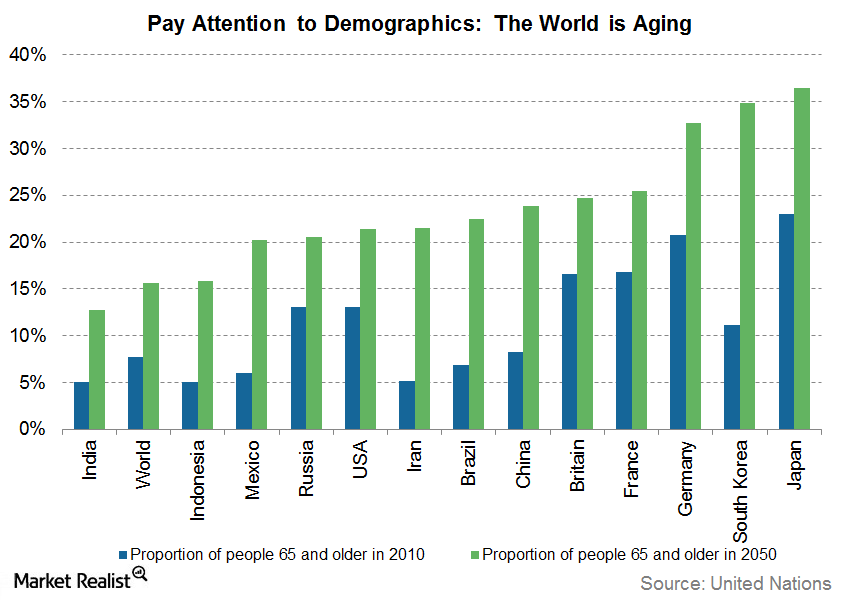 The Longevity Phenomenon: Impact on the World
Chip Castille shares a unique conversation with Global Coalition on Aging expert Mike Hodin and discusses how living longer is changing retirement—and everything else.
We're living longer. That's as true across the globe as it is in the U.S. The longevity phenomenon is driving change in retirement, social and workplace norms, the economy and much more. The better we understand these changes, the challenges and opportunities increased longevity brings, the better positioned we as a society—and as individuals—will be to take advantage.
That's why over the next weeks, we'll be bringing you a series of interviews with leading experts on global retirement. We start with Mike Hodin, the executive director of the Global Coalition on Aging, who offers insight on the deep structural changes driving the retirement crisis.
Article continues below advertisement
Market Realist: The paradigm shift in demographics and the longevity phenomenon
The longevity phenomenon has always had positive connotations. The advancement of medical technology and betterment of healthcare services (XLV) has extended life spans globally. According to a study published recently in The Lancet, the average global life expectancy has increased from 65.3 years in 1990 to 71.5 years in 2013. But the longevity phenomenon has also given rise to a unique problem. The world's population is aging rapidly, which could have a negative impact on productivity and growth rates.
The above graph shows estimates for the proportion of people aged 65 years and older in 2010 and 2050 around the world. About 15.6% of the global population is estimated to be over 65 years old by 2050. A whopping 36.5% of Japan's (EWJ) population is estimated to be aged 65 years and above by 2050.
European nations (EZU) are also reeling with an aging population. The figure stands at 25.5% and 32.6% for France (EWQ) and Germany (EWG), respectively. The United States is relatively youthful (IVV) in the developed world, with 21.4% of the population estimated to be 65 years or older by 2050. Emerging nations (EEM) like India (EPI) and Indonesia look better in comparison.
The above graph shows how the 65 years and older age group is estimated to grow by 111% in the United States from 2010 to 2050 and by 181% globally over the same time period. This shows the scope of the mega demographic shift staring us in the face.
The longevity phenomenon is likely to have a major impact on our social, economic, and professional lives. In this series, we'll explore the longevity trend and its bearing on economic output and investing habits in the future.