How Does Competition Impact the Biotechnology Industry?
The biotechnology sector is witnessing intense competition with big pharmaceutical companies entering into collaborations and mergers and acquisitions with biotechnology companies.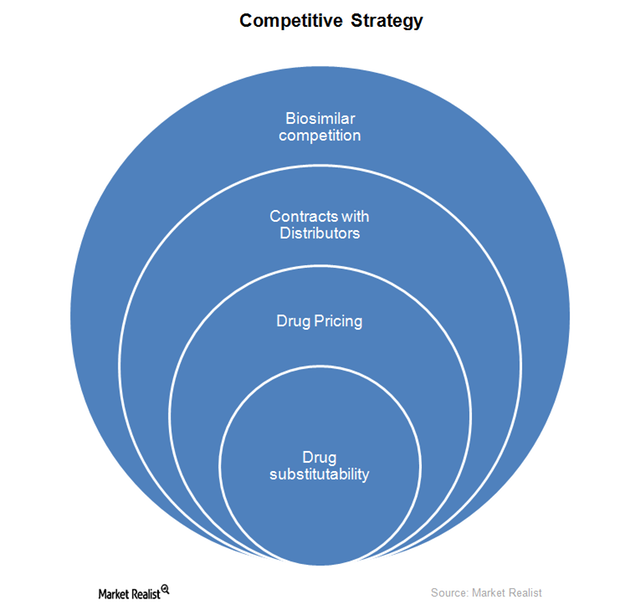 Competitive forces
With big pharmaceutical companies entering into collaborations and mergers and acquisitions (or M&A) with biotechnology companies, the sector is witnessing intense competition. These deals have injected billions of dollars worth of capital into the sector. As funds are easily available, new compounds are being developed and approved, adding to the already strong competition in the biotechnology sector.
Article continues below advertisement
Article continues below advertisement
Price wars
Price wars are one of the major outcomes of intense competitive forces in the biotechnology industry (IBB). Drug substitutability, drug pricing, and contracts with distributors affect the price wars in the industry.
Gilead Sciences (GILD) introduced its $1,000 Sovaldi pill and later introduced Harvoni, a combination of Sovaldi and another drug, to treat chronic Hepatitis C patients. Harvoni, priced at $1,125 a pill, is the first one-pill therapy for Hepatitis C. The entry of Viekira Pak, AbbVie's (ABBV) substitute Hepatitis C drug priced at $991 per pill, didn't immediately lead to a price war between Gilead and AbbVie. This was mainly due to Harvoni's lower dosage period, resulting in Harvoni's cumulative costs proving lower than the cost of Viekira Pak.
However, in December 2014, Express Scripts (ESRX) entered into a contract with AbbVie and included Viekira Pak instead of Sovaldi and Harvoni as the Hepatitis C treatment in its list of covered drugs. Express Scripts is a leading pharmacy benefit manager (or PBM) and manages the pharmaceutical drug-related insurance benefits of 25 million members. This contract has forced Gilead to announce huge discounts, up to 46%, to safeguard its existing health insurance and PBM clients.
Although Gilead continues to be the market leader in the Hepatitis C segment, the price war led to reducing the company's overall profitability. Such price wars are also expected to affect the pricing of drugs such as the upcoming drugs PD-1s for cancer and PCSK9s for high cholesterol.
Article continues below advertisement
Biosimilar entry
Biosimilars are a generic version of biotechnology drugs. They can be introduced in the market after an innovator's drug patent expires. Since biotechnology drugs are prepared with living organisms, it's difficult to replicate a particular drug exactly. Biosimilars are thus usually substitutes and not exact copies of the original biotechnology drug. This has proved to be a major impediment for biosimilar approval, since it's difficult to establish an approval process that ensures the equivalence of the original and the generic drug.
This trend, however, is expected to change. In March 2015, the FDA (Food and Drug Administration) approved the first biosimilar drug, Zarxio, a biosimilar of Amgen's (AMGN) Neupogen used to prevent infections in cancer patients.
More biosimilars are expected to enter the market in the future. Biotechnology companies such as Amgen, Celgene (CELG), and Regeneron are planning to introduce generic versions of their own patented drugs in the market. Since it takes a substantial amount of time to develop and get approval for a biosimilar, biotechnology companies expect to have the first-mover advantage in the generic biotechnology drug market. This will help them protect profit margins from generic competition.