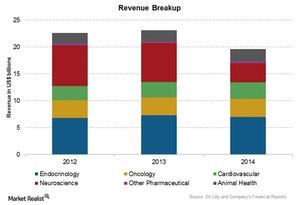 Analyzing Eli Lilly and Company's Associated Business Segments
Business segments
Eli Lilly and Company (LLY), also referred to as "Lilly," is a US pharmaceutical company with a significant presence worldwide. Lilly deals with human pharmaceuticals and animal health. The human pharmaceutical segment contributes to over 88% of the company's total revenue.
Article continues below advertisement
Human pharmaceuticals
The human pharmaceutical segment includes the discovery, development, manufacturing, marketing, and sales of human pharmaceutical products in various therapeutic areas as follows:
endocrinology – deals with diseases related to hormones and contributes over 35% of the total revenue
neuroscience – deals with diseases related to the nervous system
oncology – deals with different types of cancer
cardiovascular – deals with different types of disorders related to heart and blood vessels
other areas include bone muscle joints and men's health
Lilly distributes the major part of its pharmaceutical products through wholesalers, physicians, and other healthcare professionals and hospitals.
The key drugs include:
Humalog, Humulin, and Forteo for the endocrine franchise
Cymbalta and Zyprexa for the neuroscience franchise
Alimta for the oncology franchise
Cialis for the cardiovascular franchise
Animal health
Lilly's animal health segment operates through Elanco—a division that was established in 1954 for the development, manufacturing, marketing, and worldwide sales of its animal health products. These products are distributed by wholesale distributors.
Lilly manages its assets on a total company basis and not by the operating segments. The animal health segment's assets are intermixed with the human pharmaceuticals segment's assets.
The Health Care Select Sector SPDR ETF (XLV) has invested ~2.9% in Lilly. Other investments of XLV include ~9.5% in Johnson & Johnson (JNJ), ~7.3% in Pfizer (PFE), and ~5.7% in Merck and Company (MRK). Investors can choose other ETFs like the iShares US Healthcare ETF (IYH) for diversification in pharmaceutical and healthcare companies.