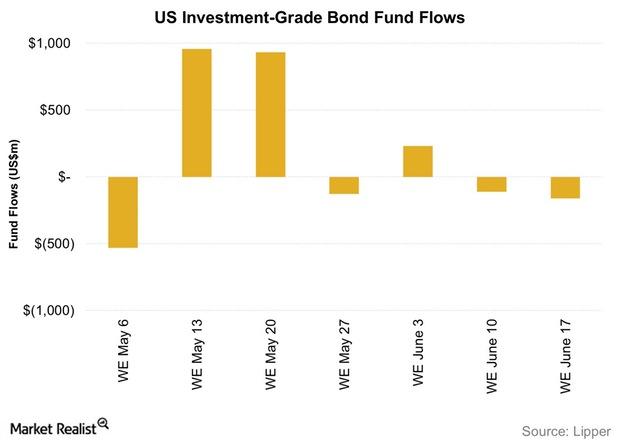 Investment-Grade Bond Funds Saw Outflows Last Week
Investor flows
Flows into investment-grade bond funds (LQD) were negative in the week ending June 17. This was the second consecutive week witnessing outflows. Investment-grade bond funds (AGG) saw net outflows of $161.2 million. In comparison, outflows amounted to $109.8 million in the previous week. Last week's outflows were the fifth week of outflows this year. All 2015 outflows have occurred since April.
Even with these outflows, investment-grade bonds have attracted inflows of $28.9 billion in 2015 year-to-date.
Investment-grade corporate bond issuers were cautious about raising debt last week due to the Federal Reserve's monetary policy statement. Very little issuance was seen prior to the statement's release.
Article continues below advertisement
Baxalta, a wholly owned subsidiary of Baxter International (BAX), Energy Transfer Partners (ETP), JPMorgan Chase (JPM), Occidental Petroleum (OXY), and Cardinal Health (CAH) were the biggest issuers of investment-grade bonds in the week ending June 19. You can read the details of these issues in Part 4 of this series.
Yield analysis for corporate high-quality debt securities
Investment-grade bond yields usually follow cues from the Treasuries market. Treasury yields fell across the yield curve week-over-week, leading to similar movement in investment-grade corporate bond yields. Investment-grade corporate bond yields had continued to fall almost throughout the week and ended at 3.25% on June 19, a loss of eight basis points from the previous week, according to the BofA Merrill Lynch US Corporate Master Effective Yield.
The OAS (option-adjusted spread) rose four basis points week-over-week to end at 1.44%. The OAS measures the average difference in yields between investment-grade bonds and Treasuries. A rise in this spread implies that the risk of high-grade bonds relative to Treasuries has increased.
Price of investment-grade debt ETFs rises
As yields fell, prices of investment-grade bond ETFs rose due to the inverse relationship between prices and yields. Price of the iShares iBoxx $ Investment Grade Corporate Bond ETF (LQD) rose by 0.6% in the week ending June 19. In the same period, the iShares Core Total US Bond Market ETF (AGG) and the Vanguard Total Bond Market ETF (BND) rose by 0.6% and 0.5%, respectively.
For more bond market trends and analysis, please visit Market Realist's Fixed Income ETFs page.