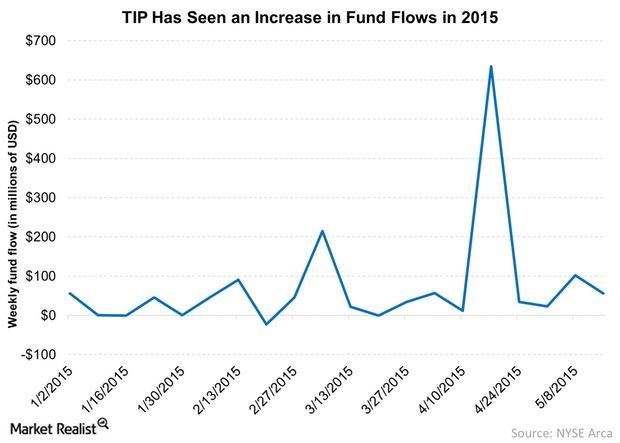 Why Inflation-Protected Securities Are in Vogue
By Matt Tucker, CFA

May. 19 2015, Updated 2:01 p.m. ET
With Treasury yields hovering near record lows, and many believing they are set to rise, Matt Tucker explains why Treasury Inflation Protected Securities (or TIPS) may be worth another look.
Last month's five-year Treasury Inflation Protected Securities (or TIPS) auction drew nearly $48 billion in interest, a sign of recently renewed demand for this inflation indexed asset class among investors. TIPS can be an intriguing way to get exposure to Treasuries in today's interest rate environment. With the recent rise in interest rates and the continued low level of expected inflation, TIPS may provide an attractive opportunity. And, as my colleagues stress in a recent paper, it can make sense for some investors to buy inflation protection before they actually need it.
Article continues below advertisement
Market Realist – Inflation-protected securities are in vogue.
The above graph shows the weekly net fund flow for the iShares Barclays TIPS Bond Fund (TIP)–an ETF composed of inflation-protected US Treasuries–for 2015.
The fund flow for the ETF spiked in late April, when inflation expectations rose suddenly. The ETF saw a positive inflow to the tune of ~$730 million in April alone. So far this year, the fund has seen an inflow of ~$1.4 billion, compared with negative flows of ~$580 million and ~$7.9 billion in 2013 and 2014, respectively.
Inflation-protected bonds gain when inflation expectations increase, unlike other bonds (AGG) (BND).
With oil (USO) prices rising, inflation could rise along with it. More importantly, though, if the recent economic improvement in Europe is sustainable, it could lead to a higher demand for American goods in Europe (FEZ). This could also contribute to higher inflation in the US.
Read on to learn why TIPS could be a good option for some investors.