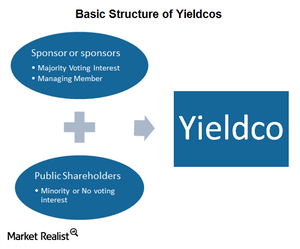 Yieldco: A Green Investment Option That Pays
Renewable energy
Renewable energy has been in the news in recent years because of changing government energy policies around the world. Within the renewable energy segment, solar power is gaining traction thanks to the falling prices of solar photovoltaics and underused solar power potential, including in some of the biggest global markets like India and China.
Our comprehensive overview of the renewable energy industry decodes the value chain of the solar power industry. You can invest in solar power companies including First Solar (FSLR), SunEdison (SUNE), and SunPower (SPWR), or you can invest in yieldcos. The Guggenheim Solar ETF (TAN) provides exposure to both corporations and yieldcos.
Article continues below advertisement
A yieldco
A yieldco is an investment vehicle that's established to own operating assets that generate predictable cash flows. Though yieldcos are often compared to MLPs—also known as synthetic MLPs—there is one key difference. Unlike MLPs, yieldcos don't get a tax pass through, meaning they're liable for corporate-level taxes. Having said this, yieldcos rely on depreciation and tax credits to set off corporate taxes.
Renewable energy projects face uncertainty while under construction, but once operational, tend to generate predictable cash flows. As a result, the yieldco structure helps the parent company separate risky activities from predictable activities while getting a tax benefit as well.
History of yieldcos
A yieldco is a much more recent financial innovation compared to REITs and MLPs. While REITs started trading in 1951 and MLPs started off in 1981, the first yieldco was floated after the turn of the century, in 2005, by Seaspan Corporation, a shipping company.
There wasn't much activity in the yieldco space for years until NRG Energy (NRG) floated NRG Yield (NYLD) in July 2013. With talk of interest rate hikes in the markets, the yieldco came into vogue. Five more yieldcos hit exchanges in 2013 and 2014, all in the renewable energy space. TerraForm Power (TERP), sponsored by SunEdison (SUNE), is the most recent addition to the list.