What's Supporting Continued Growth in the Generics Market?
The global generics market was valued at $168 billion in 2013. From 2013 to 2018, it's expected to grow at a CAGR of 11% to reach $283 billion.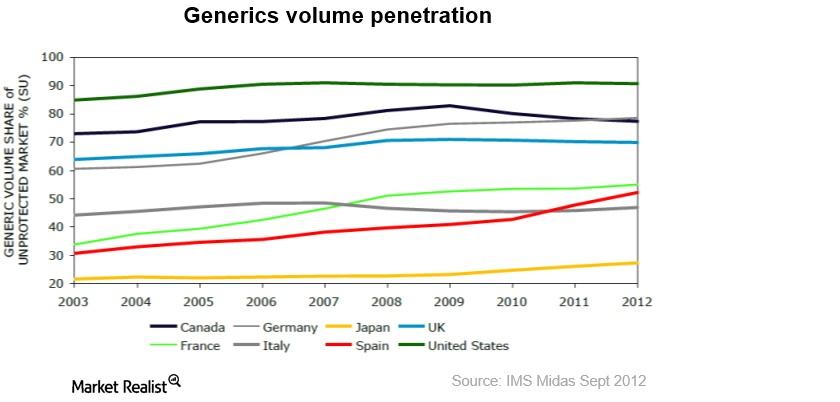 Global generics market
The global generics market was valued at $168 billion in 2013. From 2013 to 2018, it's expected to grow at a CAGR (compound annual growth rate) of 11% to reach $283 billion, according to DTTL Life Sciences and Health Care Industry Group's analysis of TechNavio Analysis 2014–2018.
Over the years, the generics market grew stronger due to the following factors:
Encouragement from the government – Developed countries' governments are trying to reduce their healthcare cost. The cost is increasing sharply due to an aging population and rising incidences of chronic diseases. In developing or emerging markets, affordability has been a concern. The use of generic drugs is helping governments make healthcare affordable for the general public.
Patent expiration of branded drugs – According to IMS MIDAS, in fiscal 2009-2013, medicines with a value around $154 billion lost exclusivity. This fueled the growth of the generics market.
Article continues below advertisement
Article continues below advertisement
US – the largest market
According to a presentation, "Global Generic Pharmaceutical Market – Qualitative and Quantitative Analysis," by Frost and Sullivan, the US is the largest generics market. It accounted for around 45% of the global generics market in terms of revenue in 2012. The EU5—Germany, the United Kingdom, France, Italy, and Spain—countries accounted for 18% of the global market.
Please refer to the above chart. It shows the generics volume penetration in the leading eight markets.
Also, in terms of volume, the US market scores highest with 86% of volume penetration. Canada and the EU5 countries are next. Volume penetration is calculated as the percentage of generic drugs dispensed by total prescription dispensed. Lower generic penetration in many countries—Japan, Italy, Spain, Poland, and France—is due to the lower utilization of generics. This is because of government policies that encourage doctors and pharmacists to substitute generic drugs for branded, or patented, drugs.
In 2013, Mylan (MYL) derived 85.5%, Impax (IPXL) derived 77.3%, Actavis (ACT) derived 72.1%, and Hospira (HSP) derived 69% of their total revenue from the sale of generic drugs.
Pharmaceutical ETFs—like the S&P Health Care Select Sector Index (XLV) and the iShares U.S. Healthcare ETF (IYH)—are capitalizing on the industry's profitability.