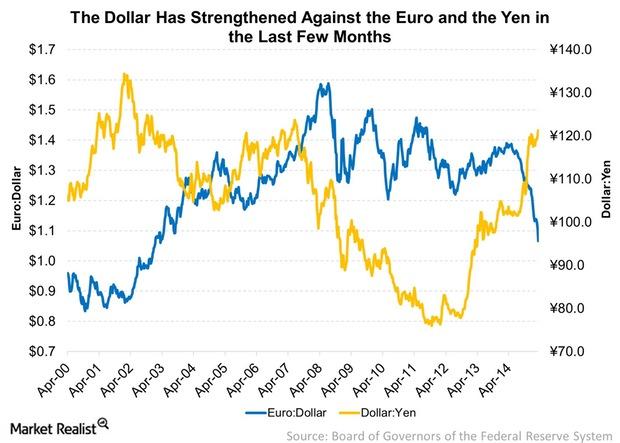 What's Causing the US Dollar to Strengthen?
By Daniel Gamba

Mar. 19 2015, Published 8:42 a.m. ET
Daniel Gamba highlights key implications for investors in a stronger dollar environment by taking a closer look at how iShares Currency Hedged ETFs can potentially help cushion the impact of currency risk.
The U.S. dollar is on a tear – it hit an 12 year high against the euro recently and a seven and a half year high against the yen earlier this month, according to Bloomberg. This is great news if you travel outside the U.S.  For example, if you went to Europe, your 4-euro cup of coffee costs you $3.80 versus $5.50 a year ago.  (In that time, the exchange rate went from $1.37 per euro to $1.06).
Article continues below advertisement
Market Realist – The strength in the US dollar is because of divergence in central bank policies.
The graph above shows the historical euro-US dollar and US dollar-yen charts. The euro peaked against the US dollar during the financial crisis. Since then, it fell due to the deterioration in the European economy (EZU)(VGK). Lately, the euro slumped considerably against the US dollar. This was due to softening economic growth and geopolitical issues including Russia-Ukraine and Greece (GREK). It slipped down further since the announcement of QE (quantitative easing).
The Japanese yen also weakened since September 2012. The BoJ (Bank of Japan) started pumping liquidity into the Japanese economy (EWJ). Since then, the yen depreciated from 77.8 yen per US dollar to 121.3 yen per US dollar.
The disparity in growth rates and central bank policies is causing the US dollar to strengthen against most of the major currencies. This will be discussed at length in Part 3 of this series.
The Dollar Index (UUP) gained a whopping 22% since July 2014. This year, the index is already up by 8.1%. The stronger US dollar is a huge headwind for large-cap stocks (SPY)(OEF). This could mean that small-cap US stocks (IWM), focused in the US, could outperform large caps.
The rest of this series will focus on the impact of a stronger US dollar on international investments.