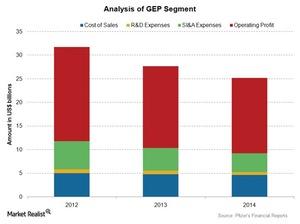 Pfizer's Global Established Pharmaceutical Segment
GEP segment
The GEP (Global Established Pharmaceutical) segment deals with products that have or are expected to lose market exclusivity through 2015 in most major markets. These also include the generic pharmaceuticals, sterile injectable products, and biosimilar development portfolio.
Article continues below advertisement
Article continues below advertisement
Revenue
The GEP segment's revenue decreased. It decreased from $31.6 billion in 2012, to $27.6 billion in 2013, and $25.1 billion in 2014. The factors responsible for the decreased revenue include:
loss of exclusivity for Detrol LA and Celebrex in the US markets, Celebrax in developed Europe, Viagra in major European markets, and Aricept in Canada
near expiration of collaboration for Spiriva in most countries
decline in Lipitor's revenue due to generic competition
products' operational decline – including Effexor, Norvasc, Atorvastatin, Metaxalone, Ziprasidone, and Tygacil
The revenue decline was partially offset by Lyrica's strong performance in Europe. It was also offset by the contribution from the collaboration with Mylan to market generic drugs in Japan.
Costs
The GEP segment's costs are compared in the above chart. Overall, the gross profit margin decreased over the last three years. It decreased from 84.3% in 2012 to 81.8% in 2014.
As a percentage of revenue, the cost of sales increased in 2014 due to the impact of loss of exclusivity and an unfavorable change in the product mix.
The R&D (research and development) expenses decreased due to lower clinical trial expenses and cost reduction efforts. However, it was partially offset by increased spending on biosimilar development programs.
Other expenses include SI&A (selling, informational, and administrative) expenses. They decreased by 17% in 2014. The decrease was due to lower expenses on marketing and cost-reduction efforts.
Other companies in the industry include Bristol-Myers Squibb (BMY), Eli Lily and Co. (LLY), Teva Pharmaceuticals (TEVA), and Novartis AG (NVS). Pfizer (PFE) forms over 6% of the Vanguard Health Care ETF (VHT).