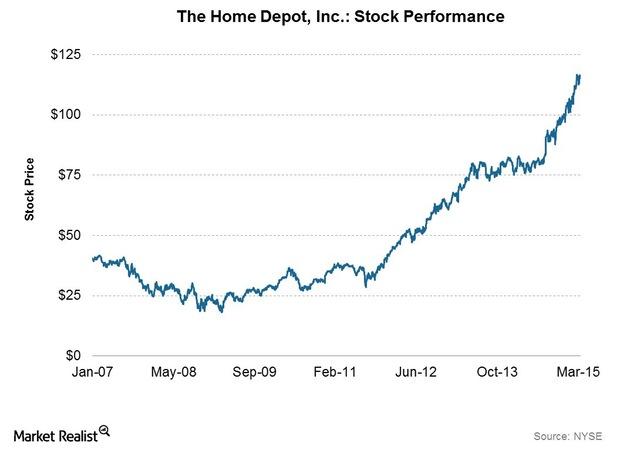 Home Depot (HD): Built of Strong Stuff
A business overview of Home Depot (HD)
Home Depot (HD) is the largest home improvement retailer (XRT) (RTH) in the world. It's the pioneer in home improvement retailing. The company is also the fourth-largest retailer overall in the US. HD sells products at its 2,269 stores in the US,[1. Including the Commonwealth of Puerto Rico, Guam, and the US Virgin Islands] Canada, and Mexico, and via its websites.
Home Depot was incorporated in 1978 by co-founders Bernie Marcus and Arthur Blank. The company went public in 1981.
Article continues below advertisement
Customer focus
Home Depot clocked over 1.4 billion transactions in fiscal 2015, which ended February 1, 2015. The company's products include materials used in construction, furniture, furnishings, and home improvement, as well as garden products and supplies. HD also provides select installation services.
The company's customer-centric approach has attracted higher buyer traffic over the years. It offers a one-stop shop concept for do-it-yourselfers and enhanced services for professionals.
Home Depot stock
Home Depot is a mega-cap stock with a market cap of over $151.8 billion.[2. As of March 19, 2015] It's a component of the S&P 500 Index (SPY) and the Dow Jones Industrial Average (DIA). It's also the number three holding in the Consumer Discretionary Select Sector SPDR Fund (XLY), making up ~6.5% of this ETF.
Home improvement retailers such as HD and its peers, Lowe's (LOW) and Williams-Sonoma (WSM), together constitute ~9.9% of the SPDR S&P Homebuilders ETF (XHB).
Record-breaking fiscal
Fiscal 2015 was a record year for Home Depot. The company respectively clocked record net income and revenue of $6.3 billion and $83.2 billion. The stock has returned over 47% over the past year and over 10% year-to-date. It has outpaced returns on the S&P 500 Index, the Dow, and the broader consumer discretionary sector[3. Returns calculated through March 19, 2015]—refer to Part 15.
In this series, we'll analyze the company's business fundamentals and investment valuation, and we'll compare the company's performance to others in the industry such as Lowe's (LOW) and Williams-Sonoma (WSM).