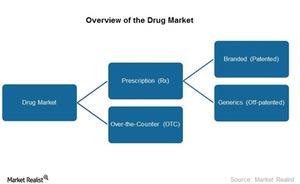 Are Generics the Only Affordable Drugs?
By Nicole Sario

Updated
Overview of the drug market
A drug is a chemical substance derived from plants, animals, and other sources. It could also be produced synthetically. Drugs are used to treat, cure, or prevent diseases. The drug market is broadly categorized into prescription drugs and OTC (over-the-counter) drugs.


In the US, both prescription and OTC drugs are approved and regulated by the FDA (U.S. Food and Drug Administration). Broadly speaking, prescription drugs require a doctor's prescription. OTC drugs don't require a prescription. However, milder versions of a few prescription drugs are available over-the-counter.
Please refer to the above chart for the major differences between prescription and OTC drugs.
Article continues below advertisement
Significance of OTC drugs
OTC drugs are popular because of the safety margin and affordability. OTC drugs are considered the first line of treatment for minor ailments. Also, they help reduce overall healthcare expenditure. There's an annual savings of $102 billion—$77 billion in clinical cost savings and $25 billion in drug cost savings. Clinical costs include a doctor's office visit and diagnostic testing. Drug costs for prescription drugs—generics and branded drugs—are more expensive than OTC drugs.
The leading companies have either expanded their OTC product portfolio or have made an entry into the segment. The recent acquisition of Abbott's generic drug unit by Mylan (MYL) will provide an entry into the OTC market. Teva (TEVA) made a joint venture with P&G to sell OTC products.
Perrigo (PRGO) is one of the leading players in the US OTC market. The company derived around 55% of its revenue from OTC products in 2014. Impax (IPXL) markets its OTC products through various alliance agreements with unrelated third-party pharmaceutical entities.
The OTC market's growth opportunities can be capitalized through pharmaceutical ETFs like the SPDR S&P Pharmaceuticals ETF (XPH) and the iShares U.S. Healthcare ETF (IYH).