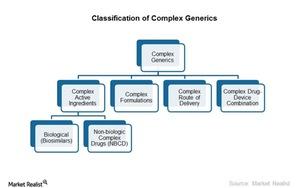 Complex Generics Are Attractive Due to High Margins
By Nicole Sario

Updated
Overview of complex generics
Complex generics are large and complex—in comparison to unbranded, branded, and company-branded generics—formulations or active ingredients used to treat chronic and life threatening diseases like cancer, Hepatitis C, and HIV.
Complex generics are classified into four categories:
Complex Active Ingredients – peptides, complex mixtures, and natural source products
Complex Formulations – liposomes, iron colloids
Complex Route of Delivery – locally acting drugs
Complex Drug-Device Combinations – DPI (dry powder inhalers), MDI (metered-dose inhalers), and transdermal system—a medicated adhesive patch
Complex active ingredients could also be categorized into two types based on the source of active ingredients:
NBC (non-biologics complex) – These aren't derived naturally. They're formed through chemical synthesis. Examples are peptides and complex mixtures.
Biosimilars, or biologics complex – They're derived naturally from human or animal material. They're produced using DNA technology. Examples are vaccines, tissues, antibodies, and proteins.
Article continues below advertisement
Complex generics focus on specialty care. In the past, the generics industry mainly focused on primary care. Now, generics are gradually stepping up to cater to the specialty care segment as well. Specialty care is included in secondary care. It's provided by specialists. Specialists have the focused knowledge and skill to treat specific diseases. For example, cardiologists treat heart diseases and urologists treat diseases related to the urinary tract.
Complex generics are lucrative
Complex generics are expensive products. Using a complex generic drug could cost around $6,000 per month. These products are expected to improve the industry's profitability due to higher product differentiation with higher entry barriers—compared to unbranded, branded, and company-branded generics.
Teva's (TEVA) focus areas in the specialty segment are CNS (central nervous system) and respiratory medicines. Mylan (MYL) targets the severe allergy and respiratory market. Actavis (ACT) focuses on gastroenterology, urology, dermatology, oncology, and women's health. Hospira (HSP) offers specialty injectables that also include biosimilars.
The industry's growth opportunities can also be capitalized through pharmaceutical ETFs like the S&P Health Care Select Sector Index (XLV) and the iShares U.S. Healthcare ETF (IYH).