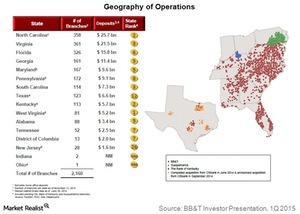 BB&T Corporation Is a Leading Bank in the Southeast Region
Overview
BB&T Corporation (BBT) is a financial holding company. It conducts its operations primarily through its bank subsidiary—Branch Bank. It has other non-bank subsidiaries as well. BB&T's banking operations are the 11th largest in the US—based on assets. It's a leading bank in the southeast region.
BB&T's subsidiaries offer a full range of consumer and commercial banking, securities brokerage, asset management, mortgage, and insurance products and services.
Article continues below advertisement
Geography of operations
BB&T operates mainly in the southeastern states. In terms of deposits, the bank's top states and branches are North Carolina, Virginia, Florida, Georgia, Maryland, and Pennsylvania. The above chart lists all of the states where the bank has operations.
The southern region was one of the areas affected most during the financial crisis. Of the states where BB&T operates, Florida, South Carolina, and Georgia were hit the hardest. The region is witnessing great recovery in terms of business, economic growth, and employment levels.
A conducive business environment, combined with availability of labor and infrastructure, attracted many big companies to the region. Overall, the unemployment in the southern region is among the lowest in the US.
Competition
BB&T competes with national, regional, and local financial service providers. It competes with national banks including Bank of America (BAC), Wells Fargo (WFC), Citigroup (C), and JPMorgan Chase (JPM) in various businesses.
Regions Financial (RF) and SunTrust Bank (STI) operate in the same region as BB&T. They compete with BB&T. Together, these three banks form ~ 4.1% of the SPDR S&P Regional Banking ETF (KRE) and ~2.8% of the iShares U.S. Financial Services ETF (IYG).
In this series, we'll discuss the key points that you need to know about BB&T's business, its various segments, and its performance. You'll also learn how the bank compares with its peers. We'll discuss its key strengths and weaknesses. We'll discuss factors to look for going forward, so you can make more sophisticated investment decisions.