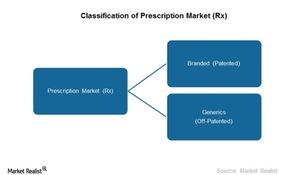 What Investors Need to Know about Branded and Generic Drugs
Introduction to the prescription drug market
The prescription drug market is divided into two categories:
Branded, or patented
Generics, or off-patented
Article continues below advertisement
What are branded drugs?
Branded drugs are patented drugs. When a pharmaceutical company discovers a new drug, it files for a patent. Then, the company is awarded a license for 20 years to exclusively sell the drug. Exclusivity is provided to recoup research and development expenses incurred during the development of a drug.
What are generics?
Generics are off-patented drugs. They're bioequivalent—in terms of dosage, form, strength, quality, effect, intended use, side effects, and route of administration—to the branded drugs. A route of administration is a way the medication is introduced to a site in a patient. This could be oral, intravenous, intramuscular, nebulizer, and topical. A few of the leading generic drugs are:
Acetaminophen, or Paracetamol
Alprazolam
Amoxicillin
Asprin, or Acetylsalicylic Acid
Azithromycin
Diclofenac
In the US, Teva (TEVA) markets generic products that include oral, injectable, and inhaled products. Mylan (MYL) had around 260 oral products in 2013. Perrigo's (PRGO) portfolio encompasses a broad array of topical dosage forms like creams, ointments, lotions, and gels. Impax (IPXL) focuses on solid oral dosage products.
Patented, generics, and branded drugs demystified
A drug generally has two names:
generic name – a molecular formula
brand name – the company's proprietary trademark used for marketing
For example, Paracetamol is the brand name for a pain reliever. Acetaminophen, or C8H9NO2, is the scientific name.
Patented drugs are patented by an innovator company. Generics are off-patented drugs with a generic name. Branded drugs are either patented or generics marketed under a company's specific name. Patented and branded drugs are used interchangeably across the industry. In the US, patented drugs are called "branded drugs." Generics with a specific name—proprietary to a company—are called "branded generics."
The growth opportunities for the generic market can be capitalized through pharmaceutical ETFs like the VanEck Vectors Pharmaceutical ETF (PPH) and the Health Care Select Sector SPDR Fund (XLV).