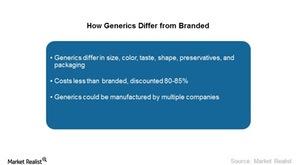 Affordable Pricing Is Driving the Generic Drug Market
By Nicole Sario

Updated
What's a generic drug?
By regulation, a generic drug must contain the same active ingredients as the original formulation. The active ingredient is any compound that has a medicinal property that makes a drug work—to treat, cure, or prevent any disease.
"Bioequivalent" means that the active ingredient works in the same way and in the same amount of time as the branded drug. Also, generics should have the same label as the branded drug. The label includes drug information like intended use, adverse reactions, major safety risks, general warnings, recommended dosages, and routes of administration.
This assures consumers that the medicines are proven to be safe and effective. However, in some medications—like anti-epileptic drugs and blood thinners—generic drugs might not be as effective as branded, or patented, drugs.
Article continues below advertisement
Generics are cheaper than branded drugs
Branded drugs are expensive due to the high development cost. The average cost to develop a drug in early 2000 was around $1.2 billion, according to PhRMA (Pharmaceutical Research and Manufacturers of America). The growth and penetration of branded drugs are influenced by physician and specialist prescription. This also significantly increases a drug's marketing cost.
Generic drugs are cheaper. They have a less expensive and time consuming development and approval process. This encourages other players to venture into the market. It increases the competition. This leads to more price erosion.
Publicly traded companies and ETFs
Some of the leading publicly traded companies in generic drug manufacturing are Teva (TEVA), Mylan (MYL), Actavis (ACT), Hospira (HSP), Perrigo (PRGO), and Impax (IPXL).
The industry's growth opportunities can also be capitalized through other pharmaceutical ETFs like the S&P Health Care Select Sector Index (XLV), the SPDR S&P Pharmaceuticals ETF (XPH), the iShares US Pharmaceuticals ETF (IHE), and the VanEck Vectors Pharmaceutical ETF (PPH).