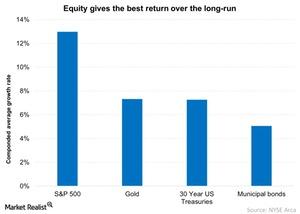 Equities: The Best-Performing Asset Class In The Long Term
By Russ Koesterich, CFA

Feb. 16 2015, Updated 1:06 p.m. ET
While none of these reasons mean that markets will move higher in the near term, they do suggest that moving to cash is neither costless nor riskless. At the very least, moving a significant portion of your assets to cash will likely erode your purchasing power over the long term. At worst, moving to cash means you may miss out on a reasonable entry point.
Article continues below advertisement
Market Realist – Equities make up the best-performing asset class over the long term
The chart above compares the price returns of the S&P 500 (SPY)(IVV) with those of spot gold prices (GLD)(IAU), municipal bonds (MUB), and 30-year Treasuries (TLT) over the last two decades. It's clear from the chart that the return on equities is far greater than those for the rest.
The CAGR (compound annual growth rate) for equities over the last 20 years, not considering the dividends, is 13.0%. This is far superior to the CAGR for gold, which is 7.3%. Treasuries and municipal bonds have CAGRs of 7.6% and 5.1%, respectively. Bear in mind that municipal bonds are usually tax-free. However, equities make up the best-performing asset class by far over the long term.
If you had held cash instead of equities over the last 20 years, or for that matter any other asset, you would have missed out on some serious returns. Inflation would have eaten into a lot of your money today.
If you're not too bullish about the prospects of US equities and if your risk-taking ability permits, you can look at emerging market stocks (EEM). Many emerging market ETFs are available to give you access to these economies. However, you should be careful with those overly exposed to commodities. Instead, favor ETFs that have a strong consumer engine to take advantage of lower oil prices (e.g. ones for India and Indonesia, but not for Brazil or Russia).
Read Market Realist's series Investing in equities beats cash in the long term for more on why you should hold equities rather than cash.