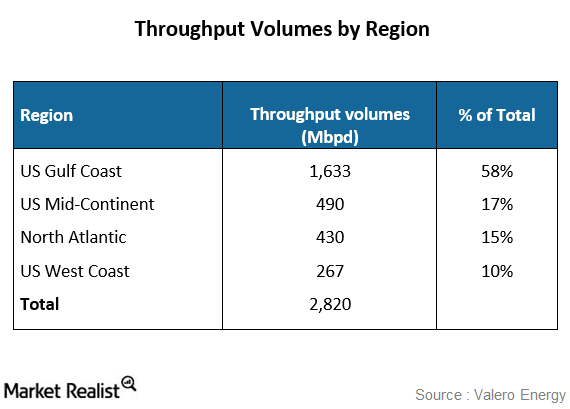 Analyzing Valero Energy's operational performance in 4Q 2014
Refining
Valero Energy's (VLO) refining segment's throughput volumes increased by 41,000 barrels a day compared to the previous year's fourth quarter, averaging 2.8 million barrels a day in 4Q 2014.
The US Gulf Coast accounted for 58% of Valero Energy's total throughput volume, while the US Mid-Continent, North Atlantic, and US West Coast accounted for 17%, 15%, and 10%, respectively, of the total throughput volume.
Operating income reported by the refining segment in 4Q 2014 was $1.9 billion, compared to $1.5 billion in 4Q 2013. Excluding special items, operating income remained flat compared to 4Q 2013.
Lower discounts for sweet and sour crude oils relative to Brent offset the stronger gasoline, distillate, and other product margins relative to Brent as well as higher refining throughput volumes.
The segment's annual operating income was ~$5.8 billion in 2014 versus $4.2 billion in 2013.
Article continues below advertisement
Ethanol
Valero Energy's ethanol segment 4Q 2014 volumes averaged ~3.8 million gallons per day, compared to ~3.6 million gallons in the previous year's corresponding quarter. Valero's Mount Vernon Plant was one of the major contributors to 4Q 2014 production volumes.
4Q 2014 operating income was $158 million compared to $269 million in 4Q 2013. The decrease in operating income was driven by lower gasoline and ethanol prices—despite relatively stable corn prices.
However, the segment's annual operating income was a record $786 million in 2014 compared to $491 million in 2013.
Key ETFs
Valero makes up almost 3% of the Energy Select Sector SPDR ETF (XLE) and has a weight of 1.27% in the SPDR S&P Oil & Gas Exploration & Production ETF (XOP). For investors seeking more diversified exposure to the energy sector, XLE or XOP would be the way to go. Valero is also a component of the SPDR S&P 500 ETF (SPY) as well as the Vanguard Energy ETF (VDE).