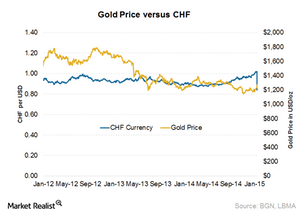 Why the Swiss National Bank removed the cap against the euro
SNB's move
As we've already discussed, gold ETFs and silver ETFs rallied after the Swiss National Bank's, or SNB, move to abandon the cap with the euro. In this part of the series, we'll discuss why the cap was put in place. We'll also discuss why did the SNB removed the cap.
In an unexpected move, the SNB scrapped its long-standing floor against the euro. This sent the Swiss franc soaring up against the euro and the US dollar (UUP). Earlier, the Swiss franc had a floor exchange rate of 1.2 against the euro.
The central bank also cut interest rates on sight deposits to -0.75%—from -0.25% before.
Article continues below advertisement
Article continues below advertisement
Background
In 2011, the SNB put a ceiling of 1.2 Swiss francs per euro in place after the Eurozone debt crisis saw investors rush to Swiss assets. Swiss assets were seen as a safe haven. This strengthened the Swiss franc. It alarmed central bank officials. Officials wanted to protect the country's exporters.
A cap was put in place to stop the currency's appreciation. An appreciating local currency is detrimental to exporters. It makes the exported goods more expensive in terms of other currencies. Switzerland exports around 56% of its goods to European countries. So, the ceiling worked as a protection for them.
Abandoning the ceiling was probably due to the expected easing by the European Central Bank, or ECB, at its next policy meeting on January 22. Among other things, the easing could include sovereign bond buying. If it's implemented, the move would increase the demand for safe-haven currencies—including the Swiss franc.
In this case, it would be difficult for the SNB to defend this self-imposed cap. We'll discuss the potential ECB easing and its impact in more detail later in this series.
Fallout
The Swiss franc increased nearly 39% against the euro and ~30% against the US dollar immediately after the announcement was made by the SNB. The high volatility in foreign exchange markets led investors to gold and other precious metals. Gold and precious metals are considered a safe haven in times of uncertainty.
This led to gains in gold (GLD) and silver (SLV). It translated into gains for precious metal stocks—like Goldcorp (GG), Barrick Gold Corporation (ABX), Newmont Mining (NEM), and Kinross Gold (KGC). It also benefited ETFs that invest in these stocks—like the VanEck Vectors Gold Miners ETF (GDX).