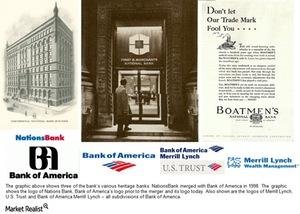 Bank of America: The second-largest US banking operation
Bank of America: A leading bank
Bank of America Corporation's (BAC) banking operations are the second-largest in the United States by assets. The company offers a full range of banking and nonbanking services, including commercial banking, corporate and investment banking, wealth and investment management, research services, and other services.
Bank of America Corporation (BAC) has a history of 230 years of operations through its various heritage and previous banks, which changed names or merged to form today's bank.
Article continues below advertisement
Article continues below advertisement
Bank of America's competitors
Based on deposits, Bank of America (BAC) is the largest bank in the United States. It competes with JPMorgan Chase & Co. (JPM), Citigroup Inc. (C), and Wells Fargo & Company (WFC), the three other largest financial institutions that offer a full range of banking services.
Bank of America also competes with various regional banks. Some are very strong in a particular segment or geography. Competitors also include specialized players such as Morgan Stanley (MS) and Goldman Sachs (GS) in the investment banking space.
As shown in the above graph, Bank of America (BAC), JPMorgan Chase (JPM), Wells Fargo (WFC), and Citigroup (C) together captured more than half of the US banking industry's total assets and 65% of the domestic deposits at the end of 2013. Smaller banks that are part of the Financial Select Sector SPDR ETF (XLF) individually capture much less share of the market.
In this series, you'll get an overview of Bank of America's (BAC) business, various segments, and loan portfolio. You'll also see how the bank compares with its competitors.