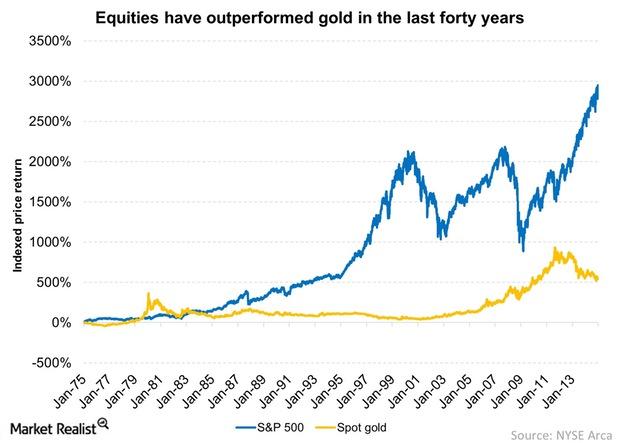 Equities are the best performing asset class in the long term
By BlackRock-iShares-ETFs

Jan. 22 2015, Updated 8:41 a.m. ET
I can understand why younger investors lack confidence in equities, but I can't endorse the strategy. Playing it safe in reaction to past crises is investing by looking in the rear view mirror, and ironically, it really isn't playing it safe at all—more like the opposite.
For two reasons. One, investors who allocate too much of their retirement portfolio to cash or fixed income will likely lose out on the higher gains that equities have historically generated over long-term periods. They'll also lose out on the compounded value of those gains between now and their future retirement years.
Article continues below advertisement
Market Realist – Equities are the best performing asset class in the long term
The above graph compares the price returns of the S&P 500 (SPY)(IVV) with returns of spot gold prices (GLD)(IAU) for the last 40 years. It's clear that the return on the index is far more than the return for gold.
The CAGR (compound annual growth rate) for equity for the last 20 years, not considering the dividends, is 7.8%. This is far superior than the average yield on the ten-year Treasury (IEF) for the last 20 years, which is 4.3%. Equities have also outperformed investment-grade corporate bonds (LQD). The average yield on bonds rated Aaa by Moody's is 5.8%. Equities are the best performing asset class in the long term.
Currently, bonds are yielding very low in general. The ten-year Treasury is yielding only 1.77%, which is just a tad over the inflation rate of 1.3%.
If you're not too bullish about the prospects of US equities in the long term and if your risk-taking ability permits, you can look at emerging market stocks (EEM). Many emerging market ETFs are available to give you access to these economies.
Read on to the next part of this series to know the second reason why you should prefer equities over cash.