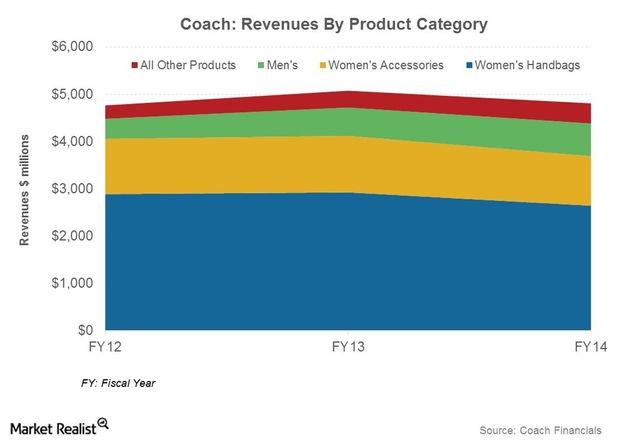 Coach: Bagging The Affordable Luxury Business
Why Coach's products are popular
Coach (COH) is one of America's pioneering companies, offering luxury goods at an affordable cost. While its products are expensive, they are still within reach of consumers aspiring to own luxury products, or of people shopping on occasion for costlier branded items.
A handbag often retails for about $1,000 to $2,000 at brands like Louis Vuitton (LVMUY) (MC.PA), Gucci (GUCG.PK), or Prada (PRDSY). In contrast, the average handbag typically ranges between $100 and $500 at Coach, Michael Kors (KORS), and Kate Spade (KATE).
Article continues below advertisement
Product assortment
The company's main product assortment includes luxury accessories, ready-to-wear apparel, watches and jewelry, and other items. Products cater to women and men. Currently, its products and sales tilt primarily toward women's products. These made up over 85% of the company's revenues in fiscal 2014.[1. Fiscal year ending June 28, 2014]
Women's handbags
Women's handbags are the company's mainstay and core product category. These accounted for 55% of revenues, or $2.6 billion, in fiscal 2014. Each quarter, the company launches three or four handbag collections, with four to seven styles within each collection.
Article continues below advertisement
Women's accessories
These primarily include small money pieces, wristlets, and cosmetic cases that complement handbags. This product category also includes key rings and charms. Almost 22% of Coach's sales, or ~$1 billion, came from this category in fiscal 2014.
Men's products
These include business cases, computer cases, totes, messenger bags, wallets, belts, and card cases, among other things. Men's products also include time management and electronics pieces. Although this category accounted for only 9% of revenues, or $0.7 billion, in fiscal 2014, Coach is focusing on the category as a key growth driver for the future.
Article continues below advertisement
Market share
The size of the North American women's and men's bags and accessories market is estimated to be worth over $12 billion. It's estimated to be growing annually in the high-single digits. The company estimates it had a combined market share of ~23% of the men's and women's bags and accessories market in North America, as of fiscal 2014.
Other products
Other products include apparel, footwear, jewelry, sunglasses, watches, fragrances, and travel bags. These products cater primarily to women.
Coach recently purchased premium footwear company Stuart Weitzman, broadening its product assortment. We'll look at this purchase in greater detail in Part 16 of this series.
Licensing deals
Coach distributes footwear products through a licensing agreement with Jimlar Corporation. Its sunwear collection is a collaborative effort with Italy's Luxottica, a Coach licensee since 2012. Watches and fragrances are sold through licensing agreements with Movado Inc. (MOV) and Estee Lauder (EL), respectively.