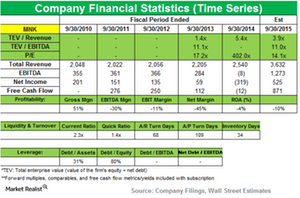 Adage Capital adds a new position in Mallinckrodt
Adage Capital and Mallinckrodt
Adage Capital added a new position in Mallinckrodt Plc (MNK) during the third quarter that ended in September 2014. The position accounted for 0.82% of the fund's total portfolio.
Article continues below advertisement
An overview of Mallinckrodt
Mallinckrodt Plc (MNK) develops, manufactures, markets, and distributes branded and specialty generic pharmaceuticals, API or active pharmaceutical ingredients, and diagnostic imaging agents. The Dublin-based company focuses on the following types of products:
analgesics
central nervous system medications
drugs for neurological conditions
drugs for rheumatic diseases
drugs for nephrologic conditions
drugs for pulmonary conditions
Mallinckrodt conducts business in the following two segments:
The specialty pharmaceuticals segment produces and markets pharmaceuticals and API that contain medicinal opioids, synthetic controlled substances, acetaminophen, and other active ingredients.
The global medical imaging segment formulates and markets radiopharmaceuticals (nuclear medicine) and CMDS (contrast media and delivery systems).
Questcor acquisition
In August 2014, Mallinckrodt participated inae pharma industry consolidation by completing its acquisition of Questcor Pharmaceuticals. The cash and stock transaction was valued at approximately $5.8 billion. According to the release on the deal, Questcor's high-growth H.P. Acthar Gel is expected to complement Mallinckrodt's specialty pharmaceutical brand portfolio, which includes Exalgo and Xartemis XR.
Article continues below advertisement
Questcor's Acthar Gel is approved for 19 indications, many of which are associated with the treatment of autoimmune and inflammatory conditions. The product has seen controversy over its adverse side effects. Questcor also faced a federal investigation into its marketing practices and questions over the quality of its flagship drug.
Shares down on FDA reclassification of generic ADHD drug
In November, Mallinckrodt shares faltered after the U.S. Food and Drug Administration (or FDA) reclassified the company's generic drug for ADHD (attention-deficit hyperactivity disorder. The FDA said the drug may not be "therapeutically equivalent to the category reference drug Concerta" made by Johnson & Johnson's Janssen Pharmaceuticals Inc.
Mallinckrodt responded, "We believe that the FDA's actions are not supported by sound scientific evidence and not consistent with the best interests of patients." The company also asserted its confidence in the safety of the ADHD drug. Last month, it said it's suing the FDA for unlawful reclassification.
The company said it plans to update its guidance at some point in the future once the company has had time to fully assess the impact of the FDA's decision.
Article continues below advertisement
Mallinckrodt posts revenue increase but swings to a loss
Net sales for fiscal 4Q14 increased by 44.8%. The increase was driven by the inclusion and performance of the Acthar (repository corticotropin) injection and OFIRMEV (acetaminophen) injection acquired in August 2014 and March 2014, respectively. The increase was also driven by Mallinckrodt's continued strength in its base Specialty Controlled Substance Generics portfolio.
GAAP net loss for the fourth quarter of fiscal year 2014 was $352.4 million, compared with a net income of $33.5 million in the same period a year ago. The loss reflected noncash impairment and restructuring charges. For fiscal year 2014, net sales were $2.540 billion, up 15.2% from fiscal 2013.
Adage Capital's positions traded in 3Q14
Adage Capital added new positions in Shire Plc (SHPG), Mallinckrodt Plc (MNK), TRW Automotive Holdings Corp. (TRW), and Duke Energy Corp (DUK). It exited positions in AbbVie Inc (ABBV) and Kinder Morgan Inc (KMI). Notable position increases were Citigroup Inc. (C) and NiSource Inc. (NI).
The next part will highlight Adage Capital's new position in TRW Automotive Holdings Corp. (TRW).