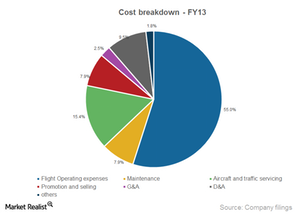 Rising operating expenses as a percentage of revenue
Growth in operating expenses
China Southern's operating expenses have grown at a four-year compounded annual growth rate (or CAGR) of 15.4% between FY 09 and FY13, while revenue has grown at 15.8%. Operating expense increased from 55,355 million renminbi in FY09 to 98,280 million renminbi in FY13. In FY09, China Southern's (ZNH) operating expense was higher than its operating revenue, resulting in an operating expense as a percentage of operating revenue of 101%.
Article continues below advertisement
Article continues below advertisement
As China Southern's revenue increased substantially in FY10, operating expense decreased to 92% of revenue. However, it increased again in the next three years to 99.7% in FY13, as shown in the graph below. This may be due to the rise in fuel prices during the period, apart from the slowdown in revenue growth and reduced efficiency from lower utilization and yield (as discussed in Part 3).
FY13 operating cost breakdown
More than half of China Southern's total operating expenses in FY13 were related to flight operating expenses. Other major expenses include aircraft and traffic servicing, depreciation and amortization (or D&A), maintenance, and selling expenses. The composition of China Southern's expenses in FY13 follow:
Accounting for 55% of total operating expenses, flight operating expenses decreased by 1.2%, primarily due to a decline in average fuel prices. The expenses included under this category are jet fuel costs, operating lease charges, and employee wages and benefits.
Maintenance costs, which comprised 7.9% of operating expenses, also decreased by 2.1%. The company attributes the decrease to the impact of the VAT reform.
Aircraft and traffic servicing accounted for 15.4% of the total operating expense. This expense item increased by 7.2% due to the rise in landing and navigation fees as the number of takeoffs and landings increased.
Selling expenses accounted for 7.9% of total operating expenses and increased by 8.7%.
D&A is another major component, comprising 9.5% of the total operating expenses, and rose due to the increase in the number of aircraft.
Fuel cost
Fuel cost is the largest cost component for China Southern Airlines. More details on fuel costs appear in the next article. Employee expenses comprised only 6% of the total operating expenses, which is lower compared to US airlines. After fuel costs, employee expenses comprise the second largest cost for most of the major US airlines, including Delta Air Lines, Inc. (DAL), United Continental Holdings Inc. (UAL), Alaska Air Group, Inc. (ALK), JetBlue Airways Corporation (JBLU), and Southwest Airlines Co. (LUV).
These airlines are held by transportation ETFs such as the iShares Transportation Average ETF (IYT) and the SPDR S&P Transportation ETF (XTN).