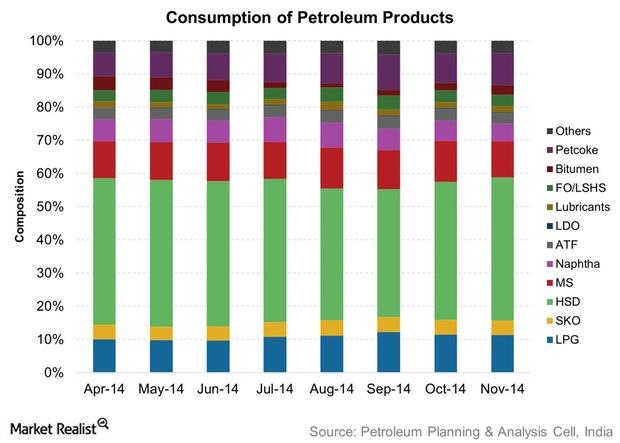 What products does India produce and consume?
Products
Before moving on to India's petroleum consumption, production, and refining, it would be beneficial to take a look at the various products that India produces and consumes. We'll also look at how the products are used.
Looking at the products will help you get a more "refined" view of India's production and consumption patterns. Also, since crude oil prices (XLE) (OIH) (XOP) impact most of the products, it's important to understand them. They also impact Indian ETFs—like the WisdomTree India Earnings Fund (EPI) and the PowerShares India Portfolio (PIN).
The Ministry of Petroleum and Natural Gas divides these products into three broad categories:
Sensitive products
Major decontrolled products
Other minor decontrolled products
Let's look at these products in more detail.
Article continues below advertisement
Article continues below advertisement
Sensitive products
These products' prices are watched closely by the government. They're also beneficiaries of the government's subsidies.
LPG (liquefied petroleum gas) – it's mainly used for cooking in urban Indian homes. It's subsidized by the government, although prices have been raised from time to time.
SKO (superior kerosene oil) – it's used for cooking in Indian villages. It's also used as an illuminant in lamps, a solvent in paints, and a low sulfur fuel in boilers and furnaces.
HSD (high speed diesel) – it's mainly used as fuel in compression engines that operate above 750 RPM (revolutions per minute). It's used in commercial vehicles, stationary diesel engines, locomotives, and pumps. It has the highest consumption among all of the products.
Major decontrolled products
MS (Motor Spirit) – it's also known as petrol, motor gasoline, or simply gasoline.
Naphtha – it's used as fuel in gas turbine units, power plants, and petrochemical plants. It's also used as feedstock for fertilizers.
ATF (aviation turbine fuel) – ATF, or jet fuel, is used for airplanes and helicopters.
LDO (light diesel oil) – LDO is used in lower RPM engines than HSD.
FO or LSHS (furnace oil or low sulfur heavy stock) – FO is used for power generation in diesel generator sets. It's also used as feedstock for fertilizer plants and fuel for boilers or furnaces. LSHS is used for the same applications. It's used instead of FO.
Bitumen – it's a common binder. It's used in road construction.
Minor decontrolled products
Petcoke – It's a solid product that remains at the end of the refining process. Its fuel-grade version is used as a coal substitute in cement and power plants.
In the next part of this series, we'll discuss the consumption of petroleum products in India.