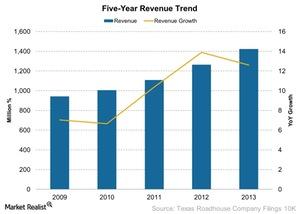 A Must-Read Business Overview Of Texas Roadhouse
About Texas Roadhouse
Texas Roadhouse (TXRH) operates full-service casual dining restaurants. As of 2014, the company had 436 restaurants in the system. The restaurants are primarily located in the US, but the company also has a few restaurants in four foreign countries. The chart below shows the company's plan to expand internationally.
Article continues below advertisement
Article continues below advertisement
The food
Texas Roadhouse primarily serves a variety of steaks, but it also offers ribs, pulled pork, pork chops, chicken, seafood, salads, sandwiches, hamburgers, sides, desserts, and beverages. We'll look at the menu in more detail in the next part of this series.
The casual dining restaurant format
Casual dining restaurants have a relaxed, casual ambiance with a lot of seating. They offer full table service and may also have a wine menu or full bar service. The menu is priced higher than fast-food restaurants.
For example, the average price for items on the burgers and sandwiches section at Texas Roadhouse is about ~$9 compared to ~$5 for similar items at McDonald's (MCD). Bear in mind that the prices of the items may vary depending on the city and location. Because of full table service, tips also add to the total amount a customer spends at these restaurants, which also adds to the price range.
Other companies operating casual-dining-format restaurants include Darden Restaurants (DRI), Brinker International (EAT), Bloomin' Brands (BLMN), Buffalo Wild Wings (BWLD).
If you're interested in a broader portfolio of restaurants, you may consider the SPDR S&P 500 ETF (SPY).
Series overview
In this overview series of Texas Roadhouse, we'll look at the company's financial performance, value drivers, competition, unit growth, and other key information. This series will help you understand Texas Roadhouse more deeply.
In the next part of this series, we'll look at the company's menu and offerings.