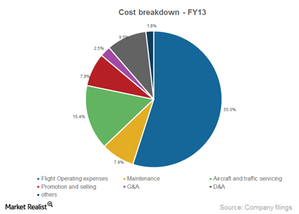 China Eastern's operating margin declines due to rising costs
By Teresa Cederholm

Dec. 23 2014, Updated 1:39 p.m. ET
Operating cost breakdown
China Eastern Airlines's (CEA) cost of operations, like all airlines, is dominated by high fuel and employee costs. These costs account for 50% of the company's total costs. Other major expenses include takeoff and landing charges, which account for 10%, and D&A (depreciation and amortization), which accounts for ~9%.
Expenses related to aircraft maintenance, lease rentals, selling expenses, and ground services each accounted for 5% of the total expense in FY13. For a comparison of the cost breakdown for China Southern Airlines, refer to Rising operating expenses as a percentage of revenue.
Article continues below advertisement
Growth in operating expenses
The company's operating costs have grown at a four-year compounded annual growth rate (or CAGR) of 23.6% between FY 09 and FY13, while revenue has grown at 22.7%. Operating expenses increased from 38,340 million renminbi in FY09 to 89,394 million renminbi in FY13. Also, unit cost has risen at a CAGR of 7.6% from 3.07 renminbi in FY09 to 4.12 renminbi in FY13.
However, after increasing year-over-year for three consecutive years, unit costs decreased by ~2% year-over-year in FY13. China Eastern's operating expenses as a percentage of operating revenue have increased from 98.3% in FY09 to 101.3% in FY13. Its competitor China Southern's (CEA) operating cost comprised 99.7% of its revenue in FY13.
The average operating cost as a percentage of sales for major US airlines was ~92% in FY13, lower than for Chinese airlines. These US airlines include Delta Air Lines (DAL), United Continental Holdings (UAL), Alaska Air Group (ALK), Southwest Airlines (LUV), and American Airlines (AAL). ETFs holding shares of US airlines include the iShares Transportation Average ETF (IYT) and the SPDR S&P Transportation ETF (XTN). 
Operating margins
Rising costs impacted China Eastern's (CEA) operating margins, which declined from 5% in FY09 to 1.8% in FY13. In FY13, in spite of a year-over-year decline in unit cost, margins declined by 3.3% from 5% in FY12.
Other income included as part of operating income increased ~49% to 2,725 million renminbi in FY13, primarily comprising subsidies received from the government. Its competitor, China Southern (ZNH), saw its operating margin decline from 5% in FY12 to 1.5% in FY13.