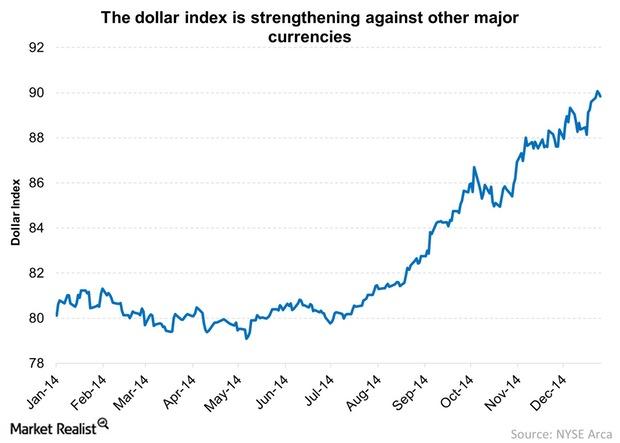 Key Catalysts Behind The US Dollar Rally In 2014
Can the US dollar rally continue? What does this mean for commodities? Russ answers these queries in his latest Ask Russ installment.
US stocks haven't been the only beneficiary of signs the US economy is recovering. The US dollar has rallied recently too.
It's no wonder, then, that I'm getting lots of questions from investors about the outlook for the greenback going forward and how this could impact other investments like commodities.
In the seventh of my ongoing series of posts dedicated to questions I receive, I've compiled some of these currency and commodity-related queries, along with my answers. If you have an investing-related question you'd like me to answer, please post it in the comments section below.
Article continues below advertisement
Article continues below advertisement
Market Realist – The dollar has strengthened against most major currencies
The graph above shows how the dollar index (the US dollar versus a basket of six major currencies) has performed in 2014. The dollar index is up by 12.1% for the year.
The US economic recovery is picking up pace. The last two quarters saw the best back-to-back GDP (gross domestic product) growth rates since 2003. In 2Q14, the GDP grew by 4.6%, which was followed by 5% in 3Q14. Other important economic data are improving too.
The US is one of the few economies in the world that's improving. Global equities (QWLD), including most emerging markets (EEM), have experienced a downturn in their equity indexes, mainly because their economies are deteriorating. This has led to funds flowing towards the US as investors bought US equities (SPY) and bonds (BND). This is one of the reasons why the dollar rallied. The PowerShares DB US Dollar Index Bullish ETF (UUP), which tracks the US dollar index, benefited in 2014 due to the US dollar rally.