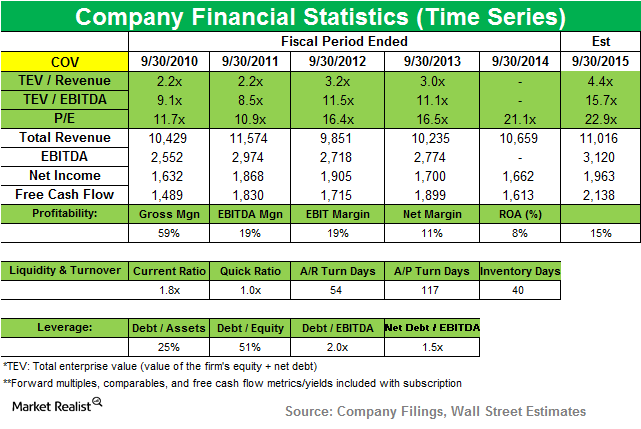 Paulson & Co. ups position in Covidien
By Samantha Nielson

Dec. 4 2020, Updated 10:52 a.m. ET
Increased position
Paulson raised its position in Covidien plc (COV) in the quarter ended on September 30, 2014. The position accounts for 4.52% of the fund's third-quarter portfolio. The fund currently owns 12,595,000 shares, which is up from 7,000,000 shares in 2Q14. Market Realist reported that the position was initiated in the second quarter ended in June.
Article continues below advertisement
Overview of Covidien
The Ireland-based Covidien plc is engaged in the development, manufacture, and sale of healthcare products for use in clinical and home settings. It operates its businesses through two segments:
Medical Devices – includes the development, manufacture, and sale of endomechanical instruments, energy devices, soft tissue repair products, vascular products, oximetry and monitoring products, airway and ventilation products, and other medical products
US Medical Supplies – includes the development, manufacture, and sale of nursing care products, medical surgical products, SharpSafety products, and original equipment manufacturer products
Covidien and Medtronic merger on track
On June 15, 2014, Covidien and the Minneapolis-based device maker Medtronic, Inc. (MDT) announced a merger agreement. Medtronic agreed to acquire Covidien for $42.9 billion in a cash-and-stock transaction.
Each share of Covidien will be exchanged for 0.965 Medtronic shares and $35.19 in cash. The transaction is expected to close in late 2014 or early 2015 and requires regulatory clearances in the United States, the European Union, China, and certain other countries.
The merger is expected to help the companies expand the portfolio of products sold to hospitals. Medtronic will also benefit from lower taxes under the so-called "tax inversion" after it relocates its domicile to Ireland.
In light of the new rules issued by the U.S. Treasury Department aimed at curbing tax inversion deals, Medtronic said it plans to borrow $16 billion to finance its $43 billion takeover instead of using its overseas cash.
Article continues below advertisement
Covidien's acquisitions and divestments
In November, Covidien sold its Stellarex drug-coated angioplasty balloon platform to Spectranetics Corporation for $30 million.
In September, Covidien acquired Reverse Medical Corporation, a privately held medical device company focused on expanding the management of vascular disease. The release said the acquisition is "complementary to Covidien's existing portfolio and will allow it to leverage existing vascular technologies to compete in the worldwide vascular embolization market, which is growing at a double digit rate."
Covidien posts increase in revenue and earnings
Covidien said its fourth-quarter net sales increased 7% to $2.73 billion. For fiscal 2014, net sales were up 4% to $10.66 billion as compared to $10.24 billion in the previous year. Diluted GAAP (generally accepted accounting principles) earnings per share were $1.13 in the fourth quarter of 2014, versus $0.79 per share in the comparable quarter last year.
Management said, "market share gains, strategic acquisitions, the successful launch of new products and productivity improvements all contributed to the achievement of double-digit earnings growth, both for the quarter and for the year."
During fiscal 4Q14, Covidien recorded an income tax benefit as well as a $94 million impairment charge to write down the in-process research and development related to its drug-coated balloon platform, based on the contractually agreed-upon purchase price.
Paulson & Co.'s other positions in 3Q14
Paulson & Co. added new positions in AbbVie Inc. (ABBV), PetSmart, Inc. (PETM), Alibaba Group Holding Ltd. (BABA), and Taminco Corporation (TAM). The fund also raised positions in Shire plc (SHPG), Covidien plc (COV), and Time Warner Cable Inc. (TWC). Notable exits during the quarter were from Thermo Fisher Scientific Inc. (TMO), Freeport-McMoRan Inc. (FCX), and CBS Corporation (CBS).
The next part of this series will look at Paulson's position change in Time Warner Cable.